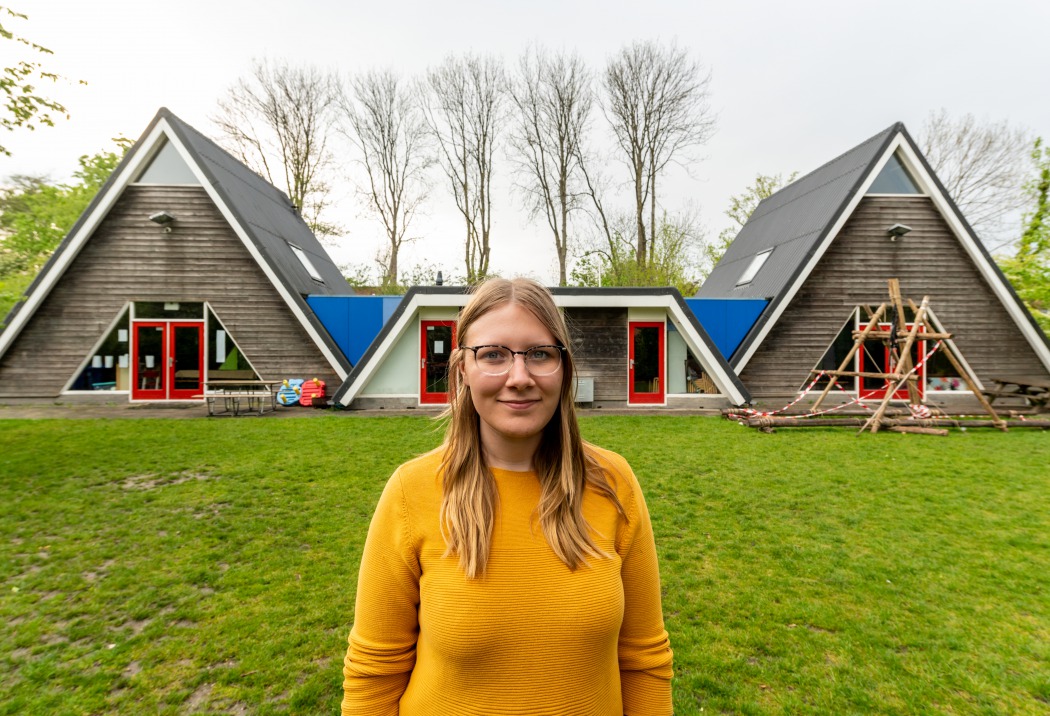 Sophie houdt van een gezellige sfeer
Sectie

Gesprekken
Haarlemmermeer Groeit
Groeiportretten
Participatie
Ik ben voorzitter bij de scouting in Nieuw-Vennep. In het dagelijks leven werk ik als kwalitatief interviewer. Daarom sprak het me persoonlijk aan om hier aan mee te doen. Ik ben 26 jaar en heb de afgelopen vijftien jaar in Nieuw-Vennep gewoond. En toevallig gaan we vandaag de sleutels van ons nieuwe huis ophalen, we gaan namelijk verhuizen naar het centrum van Nieuw-Vennep.
Het perfect passende huis.
Om eerlijk te zijn heb ik altijd weg gewild uit Nieuw-Vennep. Er is hier niks. Ik ben wel actief bij scouting vereniging. Dat maakte wel dat als er een huis vrijkomt in Nieuw-Vennep, ik Nieuw-Vennep nog wel een kans wil geven. En ons nieuwe huis heeft alles, het is vlak bij de scouting, het voldeed aan alle eisen en het heeft een garage. En sinds vorig jaar heb ik een baan in Amsterdam en vanaf Nieuw-Vennep is dat goed te bereiken. De 397 stopt naast kantoor.
Eerst hebben we ons wel georiënteerd in andere plaatsen hoor, in Aarlanderveen en Lijnden bijvoorbeeld. Dat ligt allemaal net buiten Haarlemmermeer. Maar daar konden we niet het perfecte huis vinden. En dit is wel dat perfecte huis, het voldoet aan alle wensen. We hebben een tuin, dus we kunnen ook nog uitbouwen als we dat willen. Als ik een betere baan heb, kan ik overwegen om iets anders zoeken. Misschien dat het dan weer tijd wordt voor wat anders. Natuur is het belangrijkste in de omgeving van mijn huis. Wij zijn echt buitenmensen. We kamperen ook graag. Ik mis dit wel in Nieuw-Vennep. Je hebt wel de Venneperhout en dat zal vast wel mooie worden, maar is nog niet echt af. Het oosten van Nederland trekt mij dan ook eigenlijk meer aan. Alleen voor nu is de stap te groot om onze vrienden en familie achter te laten. Voor nu is dit huis erg toegankelijk en perfect.
Ongezellig centrum in Nieuw-Vennep.
In onze vrije tijd fietsen we graag en dan kom je al snel buiten Haarlemmermeer. En al snel nadat je buiten de Haarlemmermeer komt, zoals in Lisse, is er een hele andere sfeer dan in Haarlemmermeer, bijvoorbeeld in Nieuw-Vennep. Wat wij in Lisse waarderen, is het oude centrum met verschillende kroegjes en leuke winkeltjes. Het centrum van Nieuw-Vennep is het eigenlijk net niet, het zijn voornamelijk een Bruna en een Kruidvat en dat soort winkels. Je hebt geen leuke boetiekjes. Nee, ik ga niet voor me lol naar de Symphonie om te shoppen. Of biologische winkels mis ik er ook. Ik vind biologische winkels belangrijk, maar die zijn er niet. En er is ook niet zoveel horecagelegenheid in Nieuw-Vennep. Kijk, Venneper Lodge is wel een mooi aangekleed mooie locatie, maar het is niet echt zo'n centrum zoals het centrum van Lisse, Noordwijk of Heemstede. Daar is het gezellig en die gezelligheid mis ik heel erg in Nieuw-Vennep.
Als ik bijvoorbeeld dat stuk zie bij Venneperweg bij de Symphonie, daar is een braak liggend stuk land, dan denk ik dat je daar echt wel wat leuks van kan maken. Zet er een gebakskraam neer, maak er wat groen. Het is ook zonde dat er niks gebeurt bij Jumbo. Ontwikkel daar bijvoorbeeld een koffietent; zorg ervoor dat het meer gaat leven! Gewoon wat meer dingen voor koffie en lunch. Je kan nu niet eens even lekker naar een terrasje.
De combinatie van horeca en winkels heb je wel in Hoofddorp. Daar is veel aanbod. In Hoofddorp kan je echt een dagje ervan maken. Je kan er lunchen, even wat leuks doen, even winkelen en dan weer weg. In Nieuw-Vennep heb je dat niet, dat is niet te doen. Alleen als je even een biertje wilt dan is Hoofddorp net te ver. Het kan wel, je moet heel veel zin hebben en er is altijd tegenwind. Dus die afstand weerhoudt me wel. Ben je wel eens met de bus naar Hoofddorp geweest? Dat is echt super onhandig.
We gaan ook vaak naar de duinen om te wandelen of naar de bollenstreek. Dan vinden we het leuk om onze oldtimer brommers een ritje te maken. Maar eigenlijk gaan we dan dus zo snel mogelijk de dijk over, omdat het daar mooier rijden is. Als Park 21 van de grond komt, is het, hopelijk, aantrekkelijker om daar ook doorheen te rijden. Maar ik blijf niet zo snel in Nieuw-Vennep eerlijk gezegd.
Om eerlijk te zijn lijkt Haarlemmermeer ook wel een boerengat. Zeker Nieuw-Vennep. Er zijn veel leegstaande kavels, het centrum de Symfonie is niet goed onderhouden. Niet aantrekkelijk. Het is dat ik leven heb opgebouwd hier, maar het is hier niet echt aantrekkelijk. Ik zou het ook niet snel aanraden. Het enige goede aan de Haarlemmermeer is de bereikbaarheid naar de grote steden. Je bent in 20 minuten Amsterdam. Ik heb in delft gestudeerd en ik had een studievriend uit Schiedam, maar die was langer onderweg.
Voeg kwaliteit toe met de toekomstige ontwikkelingen.
Wat ik in de toekomstige ontwikkeling van Hoofddorp belangrijk vind? Nou ik vind duurzaamheid belangrijk. En groen. Dat je overal kleine parkjes hebt. Zowel om samen te komen, maar ook vanwege de biodiversiteit en waterafvoer. Ik wil het dak van ons nieuwe huis ook vergroenen en zonnepanelen plaatsen. Een warmtepomp is helaas niet rendabel, omdat het een oud huis is, maar we gaan ons best doen voor duurzaam huis.
Als ik kijk naar ontwikkeling, dank denk ik ook 'zet het vol met windmolens'. Ik woon nu even in Abbenes, en daar is veel weerstand tegen de windmolens. Maar ik zeg zet het vol. Het helpt, het maakt het beter.
Bouw het centrum van Nieuw-Vennep ook gewoon vol. Er zijn vier of vijf kavels midden in het centrum die gewoon leeg staan. Dan komen ze er weer niet uit met de omwonende denk ik, maar begin nou eens met de verdichting van het centrum. Maakt het aantrekkelijker en gezelliger, het is geen dode boel dan. Ik zou alleen geen lelijke flats willen. Er moet wel esthetische waarde aan het centrum toegevoegd worden. Ze zijn nu aan het bouwen aan Westerkwartier, die tekeningen vind ik echt heel mooi. Je geeft iets moois om naar te kijken en niet een uit de grond gestampt iets, om maar snel mensen te huisvesten. Maak er mooie appartementen van, die energieneutraal zijn.
Ik denk dat energieneutraal eigenlijk wel een voorwaarden is. Verplicht dat gebouwen een groen dak met zonnepanelen krijgen. Alles moet nul op de meter zijn en verplicht gasloos. Ik zou nog wel verder gaan, bijvoorbeeld dat alles ook neutraal ontwikkeld is.
Als je kijkt naar stuk Hoofddorp – Nieuw-Vennep kunnen ook prima woningen tussen komen. Ze zijn ook plannen aan het maken, om woningen te maken daar. Ik zou zeggen, gewoon doen.
Ik vind het belangrijker dat er voldoende plantsoenen worden aangelegd. Als je kijkt naar hoe Getsenwoud is vormgegeven, zijn het rijen naar rijen. Echt parkjes zie je niet meer. Het is allemaal.... De indeling mag allemaal meer divers. Neem meer ruimte en ontwikkel er parkjes tussenin. De wijken afwisselen met basisscholen, in plaats van enorme scholencomplex aan de rand van de wijk. Ik zie meerwaarde in kleine scholen, kleine klassen. Meer aandacht voor kwaliteit. Een goede gebiedsplanner gaat de wijk in en kijkt functioneel gaat kijken naar de leefbaarheid.