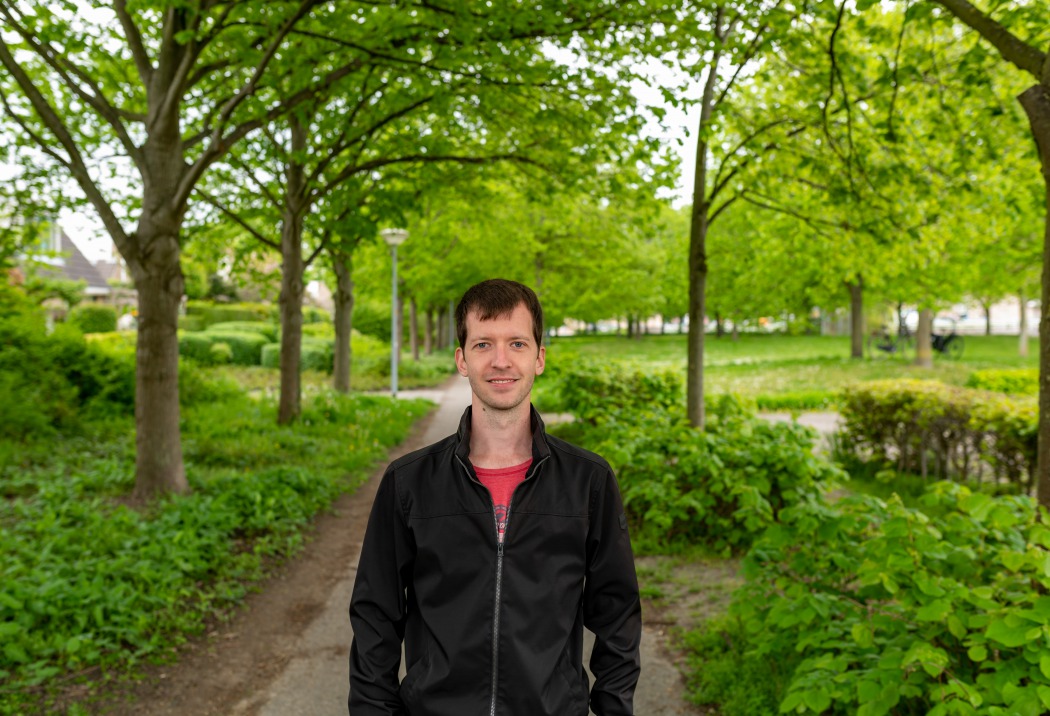 Danny wil blijven maar kan dat?
Sectie

Gesprekken
Haarlemmermeer Groeit
Groeiportretten
Participatie
Ik woon in Hoofddorp, nog steeds bij mijn ouders. We wonen hier in de wijk Overbos in een eengezinswoning. Mijn broertje is al uit huis, het is hem wel gelukt om kamer te kunnen huren in een woning in Haarlem. Zelf momenteel ben ik op zoek naar een koopwoning. Daar heb ik een aankoopmakelaar voor in de arm genomen. Via de makelaar krijg ik het woningaanbod in mijn prijscategorie opgestuurd. Af en toe reageer ik en soms heb ik bezichtigingen. Ik heb een modaal inkomen en daarmee kom ik in Haarlemmermeer uit op een tweekamerappartement voor 250.000 euro.
Verplicht buiten Haarlemmermeer te wonen.
Het liefste blijf ik hier wonen want mijn kennissenkring is hier en ook de infrastructuur en voorzieningen zijn aanwezig. Maar vanwege de koop- en ook de huurmarkt in Haarlemmermeer ben ik bijna wel verplicht om buiten Haarlemmermeer te kijken. Huren vind ik zonde van m'n geld. Een tweekamerappartement is al gauw 1200 euro aan huur. Dat is gewoonweg te hoog om in mijn eentje te dragen. Ik heb geen partner om samen mee op zoek te gaan naar een woning. Ik heb naar Hoorn gekeken en vandaaruit ik ben op zoek gegaan naar een radius; waar kan ik meer woning krijgen voor dezelfde prijs? Dan kom ik bij Krommenie en Purmerend, of Almere Buiten, Alphen aan de Rijn, Katwijk of Woerden. Dan krijg je voor 250.000 euro een driekamerappartement of bijvoorbeeld in Hoorn een eengezinswoning.
Afstand wonen werk is belangrijk.
Sinds een maand heb ik een vast contract, bij het Van Gogh Museum in het centrum van Amsterdam. Dat betekent dat ik afhankelijk ben van een goede verbinding naar het centrum. Met Hoofddorp en Hoorn kom je goed weg. Hoorn heeft een treinverbinding en Hoofdorp het R-net. Daar kijk ik heel specifiek naar, hoe je naar en van je werk kan komen. De overweging om naar Hoorn te gaan weegt steeds zwaarder. Maar eerst ga ik daar eens naar toe om eens rond te lopen en de sfeer te proeven.
Levensloopbestendig wonen.
Op dit moment ben ik alleen. Vanuit mijn leeftijd moet ik vooruit denken. Op een gegeven moment zal ik met partner en kinderen zijn. Dan start ik het liefst op een driekamerappartement zodat je meer groeimogelijkheden hebt. Later komt dan de stap naar een gezinswoning. Natuurlijk zou een eengezinswoning op dit moment mooi zijn, met veel ruimte. Maar eigenlijk is dat een stap te groot om daar alleen te wonen. Ik heb niet genoeg spullen om dat te vullen.
Bij Hyde Park heb ik ook gekeken. Dat is op zich een mooi voorbeeld van hoe de woonomgeving opgebouwd is. Maar voor mezelf heb ik het liefste een klein stukje eigen grond, dat je toch even de ruimte hebt om naar buiten te kunnen. Anders toch minimaal een balkon, waar je met z'n tweeën buiten kunt zijn, het liefst in de richting van zes vierkante meter. In Hyde Park zijn de vierkante meters beperkt en soms is er zelfs geen mogelijkheid om naar buiten te gaan. Daardoor en door de prijs bij Hyde Park, ben ik gewoon afgehaakt.
Ideale woonomgeving.
Voor mij is het zo dat ik op zowel een centrumlocatie of op mijn huidige plek in de wijk Overbos goed kan wonen. Ik ben de drukte gewend in Amsterdam, een stadswijk vind ik op zich prima. Ja als je af en toe de rust hebt, zou dat ideaal zijn. Zoals hier in de Floriande wijken, heb je af en toe appartement, dat heeft meer voorkeur dan midden in het centrum te zitten.
Ik recreëer vaak in Haarlemmermeer. Met name in en om Hoofddorp. Ik wandel graag. Veel bij Haarlemmermeerse Bos, en bij de Toolenburgerplas. En ook wel richting Spaarnwoude. Dat is nu sinds kort ook Haarlemmermeer. Voor mij zou het fijn zijn als je dichtbij een groenvoorziening hebt, klein veldje met wat bomen waar je rustig kan zitten of wat kan lopen. Als je naar een groter groengebied wilt, dat je dan maximaal vijftien minuten reistijd hebt. In Overbos is bijvoorbeeld een park naast het winkelcentrum ideaal.
Het contrast van de polder.
Haarlemmermeer is toch wel een groot contrasterend gebied, met een groot dorp Hoofddorp en verder ook boers en plattelands. Je hebt gedeelte bollenstreek, en dan de stad en Schiphol in de achtertuin. Dat maakt het voor mij een ideaal contrast. Hoofddorp zelf beschrijf ik niet echt als een stad maar als een groot dorp. Met een leuk centrum en rustige wijken eromheen. Je kan het niet vergelijken met Amsterdam, waar compact is gebouwd, maar eerder met Leiden of Rotterdam. Dat is wat opener. Daar is het beter mee te vergelijken. Je hebt dezelfde faciliteiten, maar het is wel kleiner. En qua horeca loopt het altijd wat achter. Tot de bioscoop heb je wat geconcentreerde horeca, en daarna is het een vrije dode plek.
Onsamenhangende horecavoorzieningen kan het centrum versterken.
Ik heb acht jaar bij Duycker gewerkt. Je hebt nu beetje afwisselende horeca in Haarlemmermeer. Je hebt dagelijks tot zes uur een koffietent en een donuttent. Daarna de horeca met terrasjes, restaurants en cafés. Je merkt dat daar overlappen zijn. Dat is op zich heel fijn, maar daardoor heb je niet de ervaring dat het bruisend is. Je moet echt van terrasje naar terrasje om je tijd de vullen. De beperkte horeca heeft weinig buitenfaciliteiten.
In de toekomst zou je wat meer gezelligheid moeten creëren. Het is makkelijker met mensen af te spreken op een plein waar horeca is en waar verblijfsplek is. Als ik naar PLEIN14 ga, mijn ideale horecaplek, dan is het altijd kijken of er wel plek. Ik zou dan een horecaplein willen zien, met meer plekken, meer ruimte en meer overdekt zodat je ook met de regen buiten kan zitten. Maar vooral meer en groter en bruisender. Zoals Botermarkt in Haarlem, dat is een goed voorbeeld.
Het centrum is goed te bereiken met het openbaar vervoer, maar het openbaar vervoer stopt om 1 uur. Dan kan je op zich goed uit de voeten met de fiets, dat is fijn. Als je met de auto gaat is op zich oké, want er zijn voldoende parkeerplaatsen. Je hebt een theater, een bioscoop. De basisvoorzieningen voor een stad om te groeien zijn er in Hoofddorp. En voor een disco of club ga je toch vaak naar de grotere stad en Haarlem of Amsterdam. Er is als eens geprobeerd om het nachtleven hier te krijgen, maar dat kan niet op tegen Haarlem, Leiden en Amsterdam. Dus ik zou dat toch loslaten en ergens anders op focussen. Maak Hoofddorp op een andere manier bruisend. Je hoeft niet alles te maken.
Impulsieve projecten of doordachte stedelijke ontwikkeling?
De ontwikkeling lijkt vaak haastwerk in Haarlemmermeer, alsof het is ' we hebben nu een plan het moet nu worden uitgevoerd en als het is uitgevoerd dan we stoppen we ermee'. Het is nogal impulsief. Dus, wat wil je als Haarlemmermeer bereiken? Wil je een grote stad worden of een dorp blijven? Persoonlijk zou ik niet concurreren met grote steden. Haarlemmermeer is een grote gemeente met grotere en kleine dorpen. Daar zou ik bij blijven. Niet Hoofddorp te groot laten doorgroeien, dat ga je niet winnen. Er is hier ook niet veel geschiedenis zoals in Haarlem of Amsterdam.
De nieuwe woningen moet je dan ook niet alleen in Hoofddorp bouwen. Het voelt nu alsof Hoofddorp de focus is. En dan ook nog eens alleen maar dure woningen. Het goedkope(re) segment is het minimale wat er kan. En dat is het; we hebben ruimte ook binnen de bestaande stadsgrenzen, maak daar slimmer gebruik van braakliggende terreinen of leegstaande complexen of vervallen gebieden. Gooi het plat of bouw het om maar doe er wat mee. Het verpaupert nu alleen maar. In de toekomst worden stadswijken meer groen; groener bouwen zoals gebouwen met groene gevels en daken. Meer CO2 neutraal is wel een pré. Maar de vraag is of we dat gaan redden met de huidige technieken? Niet nu inzetten op een niet ideale techniek, maar juist anticiperen op toekomstige ontwikkelingen en later verbeteren.
Volgens mij kan je de transitieperiode beter even afwachten, in plaats van dat je nu (weer) half aan de slag gaat. De technieken moeten eerst goed genoeg zijn.
Een voorbeeld vanuit mijzelf; ik gebruik mijn auto steeds minder, dus een deelauto zou ideaal zijn. Maar dan niet zoals met die deelscooters die je overal kan dumpen. Het moet toch wat meer gecontroleerd en gestructureerd gaan.