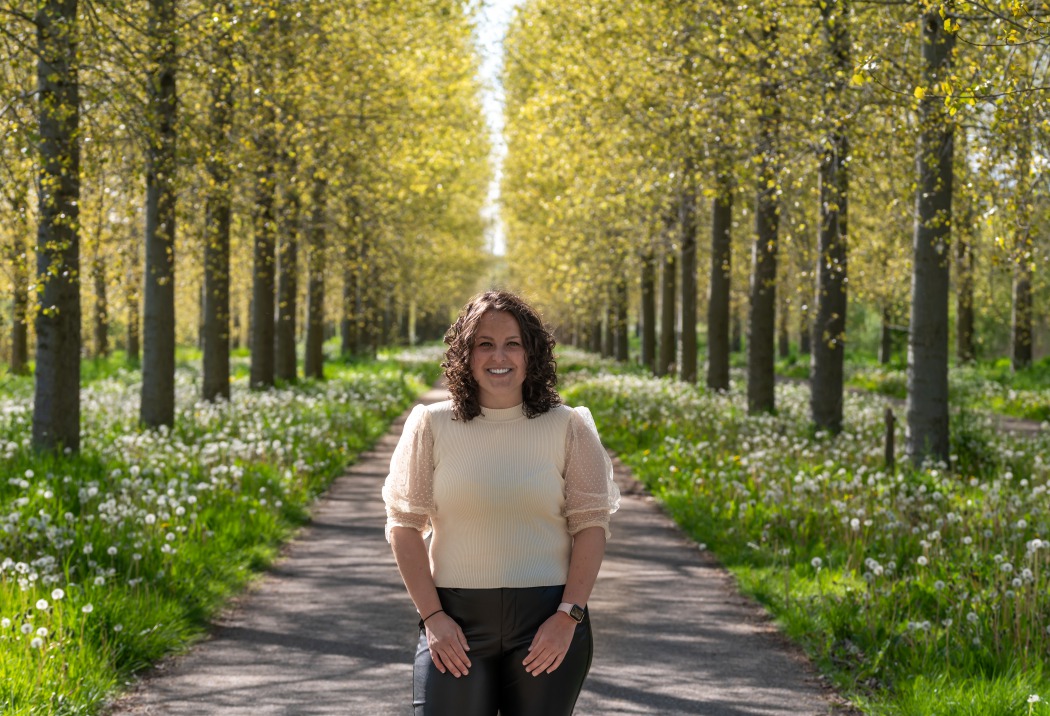 Kate wil kansen
Sectie

Gesprekken
Haarlemmermeer Groeit
Groeiportretten
Participatie
Kortgeleden ben ik vanwege mijn studie, biofarmaceutische wetenschappen, verhuist vanuit Nieuw-Vennep naar leiden. Hoewel het vanaf Nieuw-Vennep maar tien minuutjes reizen is met de trein naar Leiden, wilde ik graag op mezelf wonen. Maar het was lastig om een woning te vinden, maakt niet uit waar. Uiteindelijk heb ik nu een leuke plek in Leiden gevonden. Om eerlijk te zijn wil ik na mijn studie weer terug verhuizen naar Haarlemmermeer.
Ik vind dat een prettige en leuke omgeving. Terug naar Nieuw-Vennep? Liever naar Hoofddorp. Ik vind Hoofddorp veel centraler en een leuk dorp. In Nieuw-Vennep heb je echt weinig. Je hebt maar twee barretjes waar je heen kan, maar een middelbare school. In Hoofddorp is dat allemaal beter.
Veranderende behoefte.
Als ik dan zou verhuizen naar Hoofddorp, dan zou een appartement voor prima zijn. Althans, op dat moment, want uiteindelijk wil ik wel in een groot huis met een tuin wonen. Het hangt af van de levensfase waarin je verhuist. Als student of vlak na je studententijd is het belangrijk dat er veel barretjes in de omgeving zijn en bioscopen, etc. Maar als ik ouder ben, dan veranderd die behoefte wel. Dan is het denk ik belangrijker dat je veel groen om je heen hebt. Ik denk dat het voor nu, laten we eerlijk zijn, dat elke student wel elk weekend erop uit zijn. Ouderen doen dit niet, of ja een keer in de zoveel tijd.
Een tuin is op een latere leeftijd wel echt een belangrijke voorwaarde. En het zou fijn zijn als er op maximaal tien minuten loopafstand parken in de omgeving zijn. Als dat langer is dan tien minuten, dan ontstaat er een drempel om even snel lekker naar buiten te gaan. In Nieuw-Vennep heb je bijvoorbeeld Liquenda. Daar kwam ik vaak als het lekker weer was. Maar ik ging ook vaak met vrienden naar de Toolenburgse plas, omdat het daar meer open is en je kwam daar vaak bekende tegen. Het was alleen jammer dat de horeca daar veel te duur is. Ik neem dan liever zelf een lekkere picknick mee.
Gevolgen van Covid-19.
Ik denk dat de nasleep van Covid-19 nog wel merkbaar is de komende jaren. Ik verwacht dat het voor veel mensen lastig blijft of wordt. Daarentegen ik ga ervan uit dat ik er niet veel last van krijg, omdat ik een lange termijnvisie heb en ik kijk veel naar de mogelijkheden en kansen.
Daarnaast blijf ik wel realistisch hoor, het zal echt lastig worden voor starters. Daarom vind ik ook echt wel gekeken moet worden hoe zij een eerlijke kans kunnen krijgen. Daar moet veel meer aandacht aan worden besteed, veel meer gesprekken over gevoerd moeten worden. . Daarnaast is het misschien wel goed om een studentenraad op te richten, en daar veel meer naar te luisteren.
Typisch Haarlemmermeer.
Wat er kenmerkend voor Haarlemmermeer is? Ik denk dan gelijk aan alle pleinen. Als ik aan Nieuw-Vennep denk dan denk ik aan het winkelcentrum. En dichtbij Schiphol, centraal gelegen, veel water, zoals de Ringvaart, en veel groen en natuur. Dat zijn wel echt dingen die kenmerkend zijn voor Hoofddorp en Haarlemmermeer.
De openbaarvervoervoorzieningen zijn goed. Alleen naar het centrum is het wat minder. Ik zou het wel fijn vinden als er wat meer centrale punten in de omgeving komen. Je hebt eigenlijk alleen maar Spaarne Ziekenhuis of Hoofddorp Station.
Het gemak dat alles in Hoofddorp is fijn, maar voor ouderen en scholieren is het beter dat er wat meer in eigen dorp ontstaan. De focus op Hoofddorp is fijn, maar het is leuker als er meer verspreid over de dorpen ook voorzieningen komen.