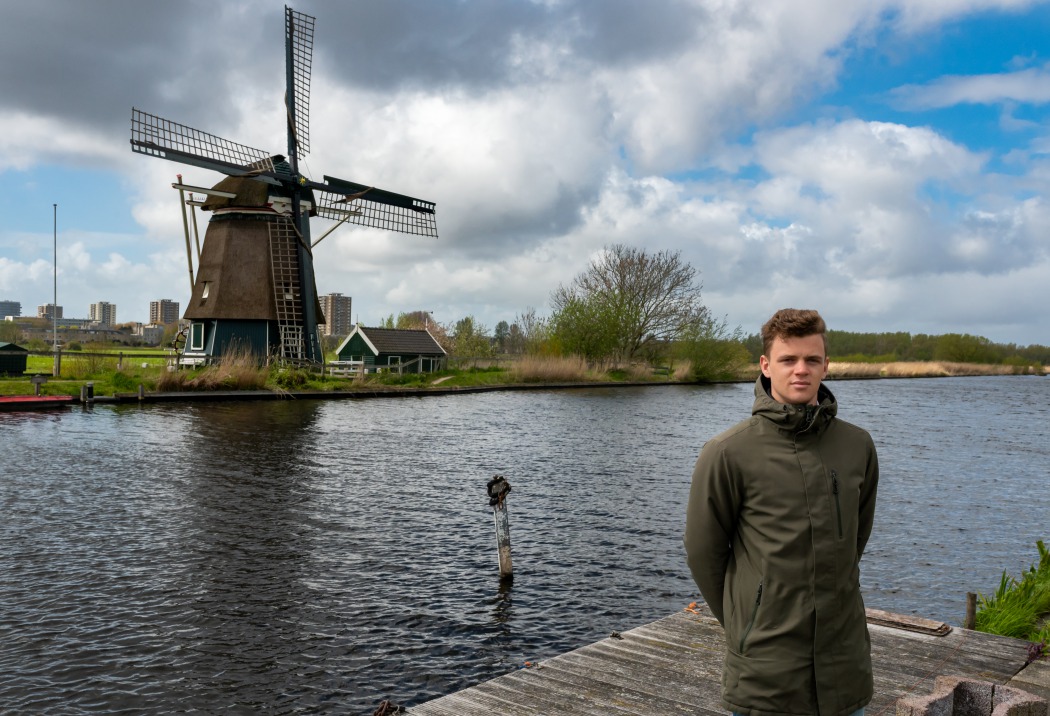 Wessel kijkt uit naar horeca
Sectie

Gesprekken
Haarlemmermeer Groeit
Groeiportretten
Participatie
Tot nu toe heb ik altijd in Hoofddorp gewoond, bij mijn ouders. Ik studeer in Den-Haag. Het is een leuke stad, maar ik hoef niet per se in Den-Haag te wonen alleen vanwege mijn studie. Dan kom je in een kleine kamer te wonen en betaal je wel veel huur. Dat heb ik er nu niet voor over. Nu dat ik in Hoofddorp woon is de reistijd wel wat langer, maar dat vind ik geen probleem.
Ik vind het reizen prima te doen. Onderweg kan ik werken aan mijn huiswerk of doe ik andere dingen. Mocht ik ooit het geld ervoor over hebben, weet ik niet of ik dan wel verhuis naar Den-Daag. Mijn familie woont in Hoofddorp en mijn werk is in Hoofddorp en dan vind ik het wel een grote stap om naar een andere stad te verhuizen. Mijn voorkeur zal wel uitgaan naar een huis dan een klein appartement, mocht ik het geld ervoor hebben.
Begrijp me niet verkeerd. Ik hoef niet per se in Hoofddorp te blijven wonen. De omgeving is ook prima. Zelf zou ik het liefste in Aalsmeer willen wonen. Mijn ideale huis is met veel privéruimte. Ik geef een voorkeur aan een grote tuin. Nou ben ik zelf ook autoliefhebber, dus ik wil ook graag een garage. Eigenlijk ben ik snel tevreden, zolang ik maar garage heb met een tuin. Mijn voorkeur gaat naar 2-onder-1-kapwoning en ik denk ook wel dat het haalbaar is in de toekomst. Ik ben wel persoon met doelen, een baan en met mijn financiën op orde. Dat ik dat belangrijk vind heb ik ook altijd vanuit thuis meegekregen. Ik heb vertrouwen in mij en mijn vriendin. Voor vrienden die praktisch(er) geschoold zijn is het lastig. Daar maak ik mij zorgen over.
Benut het water.
Als het mooi weer is ga ik graag varen. Heerlijk zo'n dagje op het water in de zon. Mijn vader heeft bijvoorbeeld een boot met wc, maar ik heb zelf een bootje gehad zonder WC. En dan is wel fijn dat er onderweg voorzieningen langs het water zijn. Ook is het lastig om bijvoorbeeld snel even wat eten te halen. Je kan niet heel snel aanleggen. Alhoewel, je hebt wel steigertjes, maar meer voorzieningen langs water is welkom.
Als ik niet ga varen, dan ga ik graag naar het strand of meertje. Ik hou ook wel van een terrasje pakken. Maar er zijn niet echt veel leuke plekken hier om lekker op het terras te zitten.
Bouwen in Haarlemmermeer.
Ik denk dat de weilanden kenmerkend zijn. De afwisseling stads, weiland, stads vind ik kenmerkend. Stedelijk gebied omringt met weilanden. Ik denk dat bereikbaarheid goed geregeld is. Er zijn veel fietspaden en de wegen zijn goed bereikbaar voor de auto.
Ik zou persoonlijk meer ruimtelijk bouwen. Ik zou kijken naar Tuderpark achtig bouwen. Daar ligt mijn voorkeur en niet zoals Hyde Park. Dat is ook echt veel te duur. Misschien moet je het combineren, om het afwisselende karakter van Haarlemmermeer te behouden, maar daarvoor moet je het wel meer buiten Hoofddorp zoeken. Hoofddorp vind ik nu al dicht bebouwd. In Zwaanshoek is er bijvoorbeeld meer ruimte voor uitbreiding. Aan de randen van hoofddorp kan het nog, achter station bijvoorbeeld. Maar liever grote ruimtes buiten Hoofddorp.
Over 20 jaar denk ik dat Haarlemmermeer er 180 graden anders uitziet. Meer zonnepanelen, meer groen en meer fietsen en openbaar vervoer. Misschien wel trams en metro's.
Ik geloof niet echt in deel auto's. Mensen willen iets bezitten. Ik wil iets in mijn auto achter kunnen laten, zoals een oplader of een zonnebril.
En ik zie veel mogelijkheden voor een groot horeca plein.
Er zit wel al wat, maar voor in de avond is er eigenlijk niks. Plein 14 is gezellig, maar daar houdt het bij op. Mijn vrienden en ik gaan naar Haarlem of Amsterdam als we uit willen gaan. Ik zie mogelijkheden voor betere horecavoorzieningen aan de kruisweg, niet per se een discotheek hoor. Ik vind mijn voorkeur lastig te zeggen, maar denk dat het Haarlemse karakter makkelijk te realiseren is Hoofddorp.