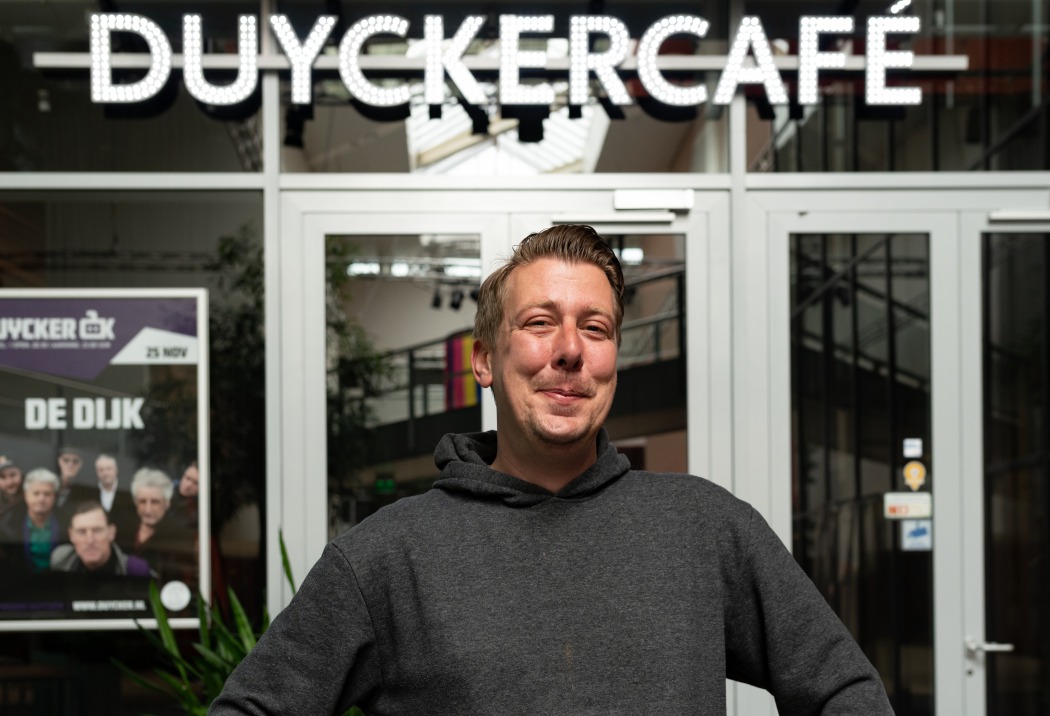 Wesley wil cultuur op meerdere locaties
Sectie

Gesprekken
Haarlemmermeer Groeit
Groeiportretten
Participatie
Toen ik een aantal jaar geleden graag weg wilde bij de Regionale Instelling voor Beschermd Wonen Kennemerland/Amstelland en de Meerlanden (Ribw), ben ik via een contingentielijst voor een zelfstandige woning hier terechtgekomen. Dat betekent ook dat ik geen keuze had in de woning en ik elke woning moest accepteren die mij aangeboden werd. Daardoor woon ik nu in een kleine woning van 36m2 waar ik meer dan 600 euro per maand voor moet betalen. Dat is wel heel erg duur. En dan heb ik niet eens een eigen tuin of een extra kamer waar ik kan hobbyen.
Typisch Hoofddorp.
Maar goed, ik wilde erg graag op mezelf wonen. Ik was er klaar voor en ik was er klaar mee om in een rumoerige omgeving te wonen met vechtpartijen en drugsgebruik. Dat is niet goed voor mij. En dit is over het algemeen een rustige en stabiele omgeving met hele sociale buren. Dus deze omgeving is veel beter voor mij en ik woon hier graag. Sowieso vind ik het heel leuk om in hoofddorp te wonen. Het is dorpachtig en een mooie polderomgeving. De kerkjes, een molen, het lijkt een beetje Oud-Zaans. Het is ook een gezellige, natuurlijke gemeente. Je kan er echt hele stukken fietsen. Mooier dan in Haarlem of Amsterdam. Daar zijn minder mogelijkheden om erop uit te trekken. En de openbare ruimte is schoon, goed onderhouden en het lijkt alsof alles onder controle is.
Soms is het hier wel druk, omdat er veel scholen in de buurt liggen. En het is jammer dat er een gezamenlijke tuin is voor bewoners van dit complex. Juist doordat het een gezamenlijke tuin is, maken bewoners er geen gebruik van en wordt er veel gehangen door jongeren. Dat is gewoon verkeerd ingericht. Wat mij betreft halen ze de bankjes hier weg, want niemand, behalve de jeugd die hier niet woont, maakt er gebruik van. Maar eigenlijk is dat het enige kleine dingetje.
Ik ben al jaren smoorverliefd op Hoofddorp. Het is gewoon erg leuk wonen in deze mooie omgeving. Het is geen stad en het is geen dorp.
Ik hou juist wel van iets ertussenin. Met genoeg voorzieningen, niet alleen woningen. Ik ben erg blij met alle wandelroutes hier in de buurt, mijn hondje voelt zich hier ook thuis en is erg blij met het vuurwerkverbod. Ik vind niet dat de gemeente het verkeerd doet. Er hoeft niet heel veel verbeterd worden in Haarlemmermeer, dus het hoeft in de toekomst ook niet echt anders. Maar als Haarlemmermeer zich ontwikkelt zouden er meer betaalbare woningen bij moeten komen en moet er meer oog zijn voor een privéplek voor elke woning. Gewoon een huisje met een tuintje of appartementen met balkon dat groot genoeg is. En dat het dan nog steeds betaalbaar is voor mensen met een minimuminkomen.
Wijdverspreid cultuuraanbod.
Als je aan mij vraagt wat locaties met veel waarde zijn in Haarlemmermeer dan denk ik gelijk aan het Cultuurgebouw en het Haarlemmermeerse bos. De bomen en het groen dat vind ik fijn. Dat moet ook echt bescherm worden. Niet alleen in het bos trouwens, maar overal, ook in de wijken. In het bos zouden er misschien wel wat meer zitplekken gecreëerd kunnen worden en zou de horeca wat goedkoper kunnen en meer aanbod kunnen komen. Ik zou adviseren om goedkoper vertier en mogelijkheden tot zelf eten te nuttigen te promoten. De reistijd vanuit mijn huis naar bos is ongeveer 15 min, te overzien en haalbaar.
Het Cultuurgebouw.
Het Cultuurgebouw is gewoon een speciale plek voor mij. Ik ben daar begonnen als dagbesteding om de lunch voor medewerkers klaar te maken. Het gebouw is erg sociaal. Mensen worden er veel bij betrokken.
Pier K en Duycker hebben veel bijgedragen aan mijn sociale stabiliteit. Het mooiste aan Duycker is dat iedereen openstaat voor elkaar, het publiek wat er komt is erg prettig. Ik zou wel willen dat dat meer verspreid door de Haarlemmermeer komt en niet alleen geconcentreerd in het Cultuurgebouw. Maar dat er ook programma's worden ontwikkeld op kleine(re) locaties in kernen of wijken. Met meer diversiteit, meer samenwerkingen en een voor een breed publiek.