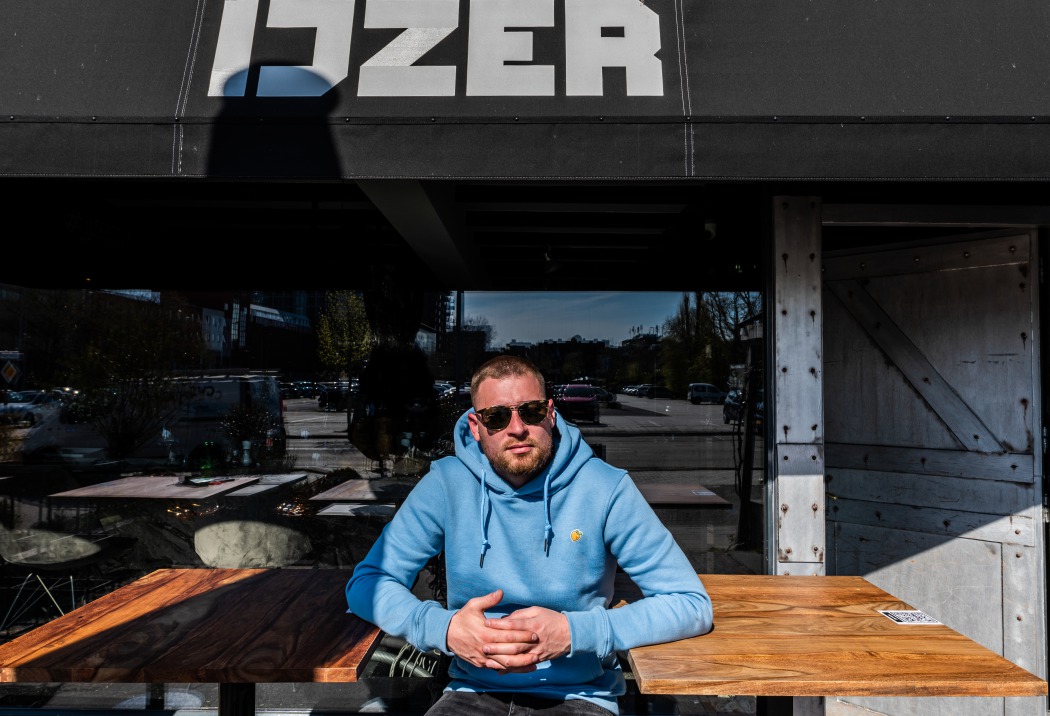 Robert: Houd het leefbaar
Sectie

Gesprekken
Haarlemmermeer Groeit
Groeiportretten
Participatie
Opgegroeid in Badhoevendorp, maar heb eigenlijk de hele Haarlemmermeer door gewoond. Ik heb een klein uitstapje gemaakt naar Amsterdam en Aruba. Maar Amsterdam is te… al die toeristen. Dat is niet fijn. Hoofddorp is wel echt mijn plekje. Het karakter van Hoofddorp is tof. Ons kent ons, maar toch ook stads. Maar ik ben toch wel echt een jongen van de polder.
In mijn vrije tijd ga ik vaak naar de Toolenburgse plas en het Haarlemmermeerse bos. Het is daar ook ideaal voor kinderen. Je hebt natuurlijk ondiep water, zodat die kleintjes ook het water in kunnen. Wel vind ik dat het meer aantrekkelijker gemaakt moet worden. Je hebt er wel horecatentjes, maar ik zou het liever zin dat er een tof stadstrand komt met ligbedjes, parasols en de hele mik mak.
Wonen in Hoofddorp.
Inmiddels woon ik met mijn vriendin in Bornholm, maar we zijn wel op zoek naar iets anders. Het liefste zou ik in Hoofddorp blijven wonen, maar het is lastig om een woning te vinden. Dus voorlopig blijven we hier nog wel wonen. Het is een maisonnette woning en we hebben een kleine buitenruimte. Dus dat is oké, maar we zouden wel graag naar grotere woning willen verhuizen. Het liefste een rijtjeshuis met een tuin en minimaal een extra kamer, voor als er een kindje bij komt. Alleen dat is niet betaalbaar als ondernemer met de cijfers die er nu zijn door corona. Je moet echt wel centen hebben, ik heb de mazzel niet dat mijn ouders kunnen helpen. De huur betalen met mijn cijfers lukt prima, maar een hypotheek is niet haalbaar.
En ik hoor het ook veel in mijn omgeving. Jongeren die in mijn zaken komen of voor mij werken. Die zitten nu in de problemen. Ze willen wel in Hoofddorp wonen, maar ja.. vind maar wat. Je bent gedwongen om naar de stad te gaan als je gaat studeren omdat er hier in Haarlemmermeer niks is.
Evenementen mogelijk maken.
Ik heb hier ook twee zaken, RIO en de IJzerbar en ook doe ik veel met mijn evenementenbureau. Zo organiseren we evenementen rond Pasen of met Koningsdag deden we altijd dingen in Hoofddorp. Maar ik vind wel nog dat Hoofddorp te veel een dorpsimago heeft. Samen met de centrummanager zijn we altijd wek op zoek naar wat je meer kan doen met en in Hoofddorp Centrum. Ook met evenementen bij locaties zoals het Haarlemmermeerse bos of de Tolenburgse plas en ook bij mijn eigen zaken kan er veel meer gehaald worden. Evenementen worden niet goed benut. Ik heb bijvoorbeeld een vergunningaanvraag gedaan voor het EK gedaan, maar dat gaat dan niet door vanwege corona. Het wordt gelijk afgehouden. Er is genoeg ruimte voor mogelijkheden. Samen met wat ondernemers hebben we een heel plan, met testen en alles volgens de regels. Het kan gewoon, maar waarom wordt er niet geluisterd naar de ondernemers waar je het mee moet doen. Ik ben ervan overtuigd dat als je gereguleerd dit soort grotere evenementen organiseert dat het veel beter is, dat dat iedereen thuis elkaar opzoekt. Dat is wel echt iets waar ik mij aan stoor.
Leefbaarheid is meer dan een thuis.
Dat Leefbaar Haarlemmermeer is volgens mij meer promotie dan dat er echt iets mee wordt gedaan. Daar loop ik vaker tegen aan, en heb ik ook vaker dingen over gezegd, maar dat ter zijde. Bijvoorbeeld de parkeerplaats bij mijn zaak, die gebruikte ik toen der tijd als drive in voor mijn restaurant. Dan wordt er gelijk weer gezegd dat ik parkeerplaatsen van ondernemers gebruik, terwijl het na 18.00 uur is en die winkels al dicht zijn. Kijk, dat is dwars zitten om het dwars zitten.
Als je het over leefbaarheid hebt, is het belangrijk dat alle belanghebbende om de tafel zitten.
Zorg dat je alle woordvoerders met elkaar laat communiceren. Er moet transparantie komen over werken, wonen, en recreatie. Mensen weten niet waar ze aan toe zijn, en daar ontstaat vaak de frustratie. Eigenlijk wat er is besloten door de gemeente krijgt je vaak te horen, maar wat er speelt en hoe het besloten wordt hoor je niks over. Ik ben ervan overtuigd dat communicatie the key is. Meer luisteren naar elkaar, minder machtsposities en meer rekening houden met elkaar.
Ik zou dan nog wel wat doen aan de veiligheid. Dat is wel belangrijk. Ik probeer al jaren om een nachtlijn te maken. Dan krijgen inwoners en bezoekers een veiliger gevoel. In Haarlem hebben ze een goede aansluiting met de politie, en notabene de man die dat daar regelt, werkt ook hier. Maar hier komt het niet van de grond. We hebben nu geen enkele aansluiting met de politie 's nachts. Dat moet toch anders kunnen.
Ontwikkel een écht stadscentrum.
Als Hoofddorp gaat groeien, moet je ook echt dat centrum aanpakken. Weet je, maak van de Kruisweg een boulevard. Een soort strip. Helemaal dicht gooien voor auto's en maak hier een voetgangersgebied van zoals in Haarlem. De autotoegankelijkheid moet minder in Hoofddorp. Zo krijg je echt het stads gevoel en zo kan de horeca elkaar versterken. Of neem nou het Burgemeester van Stamplein. De bewoners zeggen dat er te weinig gebeurt op het plein, ze willen meer evenementen. Maar als er dan iets wordt georganiseerd, dan is er weer overlast. Waarom is dit plein überhaupt gemaakt? Er is niet eens stroomvoorziening.
Maar die nieuwe wijken vind ik wel gaaf hoor. Het is daar wel belangrijk dat er een café is en een buurtsuper. Er moet meer gekeken worden hoe je samenkomst van buren kunt creëren; hoe faciliteer en behoud je het dorpse ons kent ons gevoel? En soms denk ik ook wel van, waarom gaan die expats in rijtjeshuizen wonen. Die willen gewoon wonen, en kunnen prima in kleinere appartementen wonen. Die hoeven niet in een (nieuw) rijtjeshuis. Maak rijtjeshuizen vrij voor gezinnen met kinderen. Grote blokken in de hoogte op de rand.
Hoofddorp zit vol kansen.
Hoofddorp wordt the place to be, 100%. Ik ben niet somber over mogelijkheden en eigen ondernemingen. Hoofddorp kan veel. Er is veel ruimte. Er zijn tal van kansen, zoals het centrum wat ik net zei. Of de ringvaart. Maak daar een stadstrand, maar dan moet er wel een goede verbinding zijn anders gaan mensen niet. De goede bereikbaarheid en de parkeerruimte speelt hier een grote rol in. De openbaar vervoer aansluiting vanuit andere dorpen kan beter. In Hoofddorp is alles wel goed geregeld, maar wil je bijvoorbeeld reizen vanuit Abbenes etc, is dit velen malen minder. Ik weet niet eens of dat wel kan, haha.