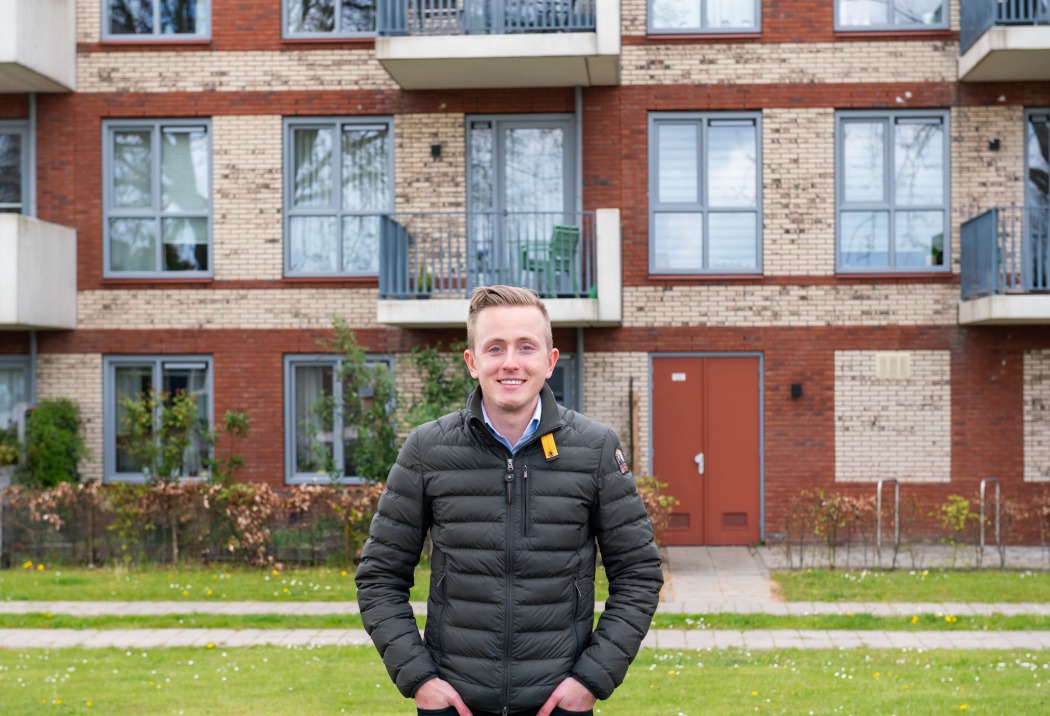 Mitchell: Haarlemmermeer is innovatief
Sectie

Gesprekken
Haarlemmermeer Groeit
Groeiportretten
Participatie
Samen met mijn vriendin heb ik net een huis gekocht in het centrum van Hoofddorp. Het is een prachtig appartement met tweeslaapkamers, een woonkamer met keuken en een ruim balkon. Het doel is wel om over tienjaar ergens anders te wonen en misschien dit appartement te verhuren aan bijvoorbeeld vrienden. Ik zou dan wel in het centrum willen blijven wonen, want ik houd van de gezelligheid van het centrum. Maar ik wil dan wel wat ruimer wonen en met een tuin. We hebben ook gekeken naar Hyde Park, maar dat is echt te duur voor wat je krijgt.
Kansen voor ontwikkelingen.
Ik ben veel aan het werk, maar als ik wat vrije tijd heb ga ik snel even op een terrasje zitten in het centrum. Ik ga niet zo snel naar bijvoorbeeld het Haarlemmermeerse Bos of de Toolenburgse plas, maar daar zou wel echt wat meer gedaan mee kunnen worden. Toch zijn er vooral kansen in het centrum. Als je daar een horeca plein maakt of een strip aan de kruisweg ontwikkelt zonder auto's, dan creëer je veel meer een gesloten en gezelliger centrum.
Ik denk dat er meer appartementencomplexen voor jongeren gebouwd moeten worden. Met de voorzieningen die zij nodig hebben in de buurt of onderin het complex. Dan zou het centrum een logische plek zijn. Of in de lege kantoren. Want als je kijkt naar de toekomst en je ziet al de lege kantoren, dan denk ik, waarom kan daar niet meer mee gedaan worden? En dan kan je tussen Hoofddorp en Nieuw-Vennep gezinswoningen ontwikkelen. Dan groeien die twee dorpen naar elkaar toe en maak je ook daarin kleine centrumpjes, zodat het wat meer verspreid is. Vroeger voetbalde we vaak op veldjes en pleintjes. Dat is het fijne van Hoofddorp. Dat moet wel blijven. Ook het openbaar vervoer is hier gewoon goed. En ik verwacht ook wel veel van het share. Share scooter, share auto's: share wordt de toekomst.
Als ik Haarlemmermeer moet omschrijven in drie woorden? Dan denk ik innovatief, bescheiden en dorps. Ik ben echt trots op alle ondernemers hier in de omgeving. Ze zijn creatief en slim.