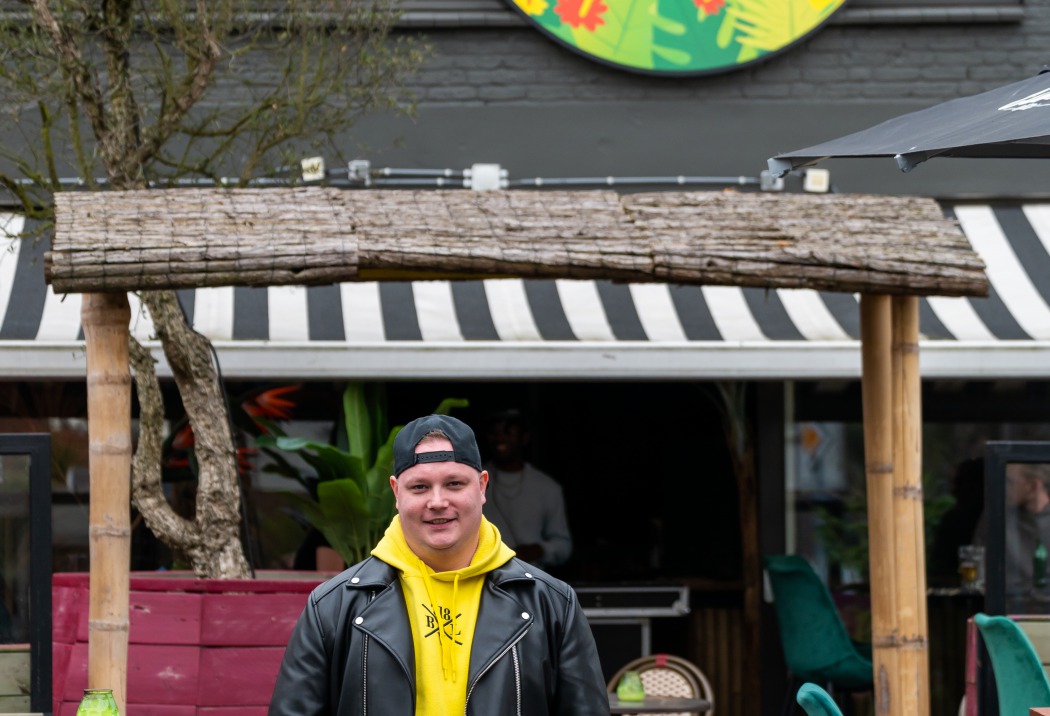 Lars wil leven in de brouwerij
Sectie

Gesprekken
Haarlemmermeer Groeit
Groeiportretten
Participatie
Sinds twee jaar woon ik samen met mijn vriendin in het nieuwe complex bij PARK21. Ik heb altijd in Hoofddorp, in Floriande, gewoond, dus ik ben wel blij dat we hier zijn ingeloot. Toen we gingen kijken naar een woning om samen te wonen lag onze voorkeur in Nieuw-Vennep, Aalsmeer en Haarlem. Ik ben niet echt dorps aangelegd. Ik houd wel echt van wat leven in de brouwerij. Verhuizen naar bijvoorbeeld Lisse, Hillegom of Beinsdorp was dan ook écht geen optie. Liever beetje dat Amsterdamse gezelligheid. Veel mensen om me heen.
We hadden het niet verwacht, maar ineens kwam Hoofddorp op ons pad. Ik vond het wel belangrijk dat het dichtbij mijn werk is, bij de Jack en Jones in Hoofddorp centrum. Het wonen moet dus wel dichtbij mijn werk zijn, omdat ik zelf geen rijbewijs heb.
Dromen van meer ruimte.
In de aankomende vijf tot tien jaar is deze woning nog oké. Zowel qua ruimte, het is een 3 kamer appartement, als qua eigendom, we huren het nu. Maar ooit zou ik wel iets groters willen kopen. Voor starters is dat nu nog niet te doen. We worden met tonnen overboden. Maar zo'n appartement waar we nu in wonen heeft ook beperkingen. We hebben wel een groot balkon, maar om een barbecue te organiseren of verjaardagen te vieren, is het eigenlijk wel te klein. Hoe mooi zou het zijn als je samen met je vriendin een huis met een tuin hebt? Maar we zitten hier nu prima, dus we zien het later wel… En daar komen vast wel obstakels bij kijken, maar ik hoop dat ik carrière kan maken bij mijn huidige werkgever en dan een mooi en rijkelijk leven kan leiden en in een mooie woning kan wonen. Appartement of grondgebonden woning maakt dan niet uit, als het maar ruim is.
De toekomst van Haarlemmermeer.
Als Haarlemmermeer gaat groeien is het belangrijk dat er meer verschillende soorten woningen komen. Hyde Park lijkt allemaal op elkaar en is allemaal te duur voor jonge starters of mensen in het sociale segment. Maar ook in de bestaande omgeving kan een en ander wel beter. Zo is het zonde dat er niks wordt gedaan met het pand waar Vork en Mes zat. Ik kom graag in het Haarlemmermeerse bos en elke keer als ik dat zie denk ik 'ik zou hier wel een feest willen organiseren' of maak er een club van. Zorg ervoor dat er iets wordt gedaan met zo'n mooie locatie. En dan het liefst iets met betaalbare horeca. Neem nou de Toolenburgse plas. Daar zitten twee horeca tenten, maar die zijn aardig prijzig. We nemen dan ook vaak zelf een biertje en een wijntje mee.
Sowieso kan er wel meer gedaan worden aan de horeca in Hoofddorp. Nu zijn er alleen drie kroegjes, maar ik zou wel een club willen. Vroeger had je 'de Challenge'. Zoiets als Poppodium Duycker vind ik ook een aanwinst, maar het programma moet meer divers. Zorg ervoor dat er voor iedereen wat te beleven is.
Onbenut PARK21.
In Haarlemmermeer heb je een paar beeldbepalende elementen, zoals Schiphol, het Cruquiusgemaal en de Calatravabruggen. Iedereen kent die. Maar zoiets als PARK21 nog niet. Dat komt ook omdat er nog niks is. Alleen een paar boompjes met een wandelpad. Ik ga daar nou niet lekker op een zonnige dag in het park zitten. Maar er wordt ook niet veel gepromoot. Zo kwam ik er onlangs achter dat er een elektrische Krosbaan is, maar dat wordt niet gepromoot. Dat is jammer. Maar er is ook geen horeca of een plek waar je even wat te eten en te drinken kan halen. Het is geen verblijfsplek. Natuur is belangrijk, maar maak het dan wel aantrekkelijk om te verblijven. Maak er een visvijver, een speeltuin, een grasveld om te liggen ofzo. Maar doe er wat mee! En rondom Park 21 kan je dan woningen ontwikkelen, tussen Hoofddorp en Nieuw-Vennep. Dan krijg je eigenlijk dat die één stad worden met een groot stadspark.
Trots op de polder?
Maak iets waar ik trots op kan zijn. Nu vind ik het lastig om te vertellen waar ik trots op ben. Als ik hier iemand moet rondleiden en mooie dingen moet laten zien, dan zou ik eigenlijk niet weten waar ik naar toe moet gaan.
En als ze dan toch bezig zijn, zorg er dan ook voor dat de ov-verbindingen verbeteren. Nu is het 's nachts echt een drama. Ook kom je niet makkelijk met de bus van deur tot deur, terwijl de bus wel vaak rijdt. Maar dat laatste stukje duurt dan ineens weer heel lang. Dat kan toch veel beter?