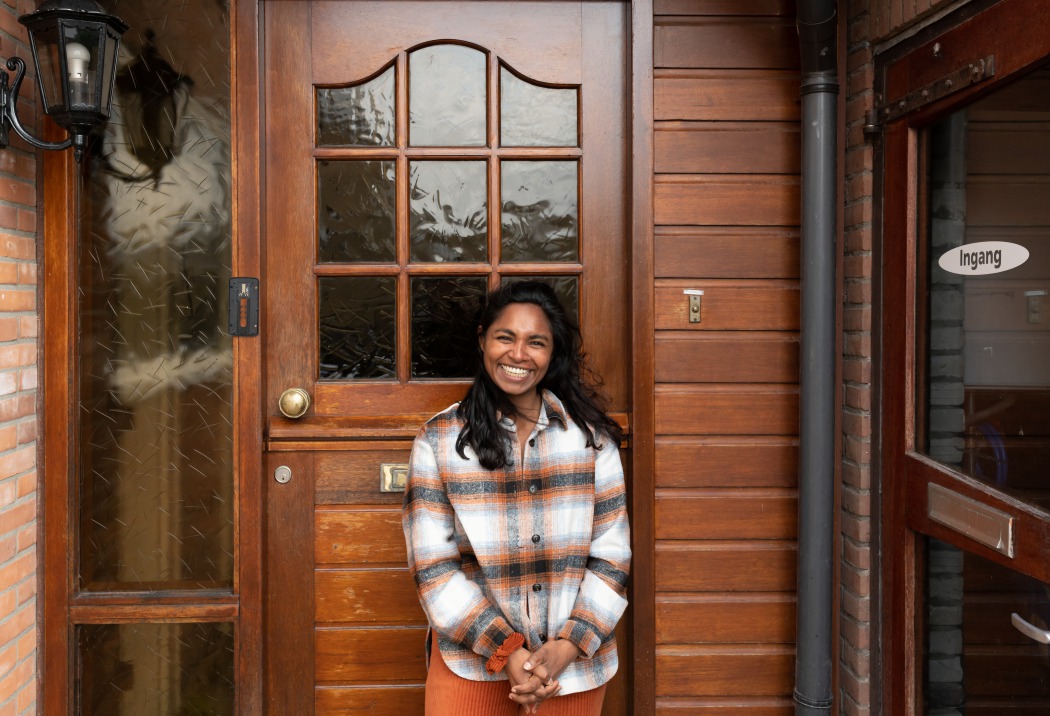 Indra wil bouwen met groen
Sectie

Gesprekken
Haarlemmermeer Groeit
Groeiportretten
Sinds een paar maanden ben ik weer terug in Hoofddorp. Ik ben opgegroeid in Hoofddorp, tot aan de middelbare school. Daarna ben ik verhuisd naar Amsterdam. Mijn werk in de filmindustrie en mijn sociale leven speelt zich voornamelijk af in Amsterdam. Het appartement in Amsterdam was een inloophuis voor iedereen. Iedereen had de sleutel. Het appartement was klein, maar in een fijne omgeving. Prima voor die tijd.
Toekomst opbouwen in rust en ruimte.
Met het oog op de toekomst, inmiddels ga ik richting de 30 en ben ik getrouwd, zijn we gaan kijken naar meer ruimte en dan kijk je al snel buiten Amsterdam. Mijn man komt ook uit Hoofddorp en omdat ik daar ook vandaan kom, kom je daar snel op uit in de zoektocht naar meer ruimte om te wonen. Ook het stukje rust wat Hoofddorp met zich meebrengt is iets wat mij heeft aangetrokken. Ik woon nu op een prachtige plek in het oude centrum van Hoofddorp. Het stukje huisje, boompje, beestje kan in Hoofddorp makkelijker dan Amsterdam. Mijn voorkeur is een rustige en stabiele omgeving. Uiteindelijk hebben we het ook gekocht met het idee dat we in dit huis samen oud gaan worden.
De overgang van het rumoerige leven in het appartement in Amsterdam naar het rustige huis in Hoofddorp was wel groot. Maar we hebben in dit huis een jeugdherberg gemaakt op de zolder die we niet gebruikten, met stapelbedden en in de schuur hebben we een bar gemaakt. Dan kunnen vrienden nog steeds altijd langskomen. Ik wil ze ondanks dat ik verhuisd ben, toch om mij heen hebben. Het liefst zou ik willen dat al mijn vrienden in deze straat komen wonen.
Ik ervaar de omgeving en buurt als netjes en schattig. De oude huisjes passen goed bij Hoofddorp. Hoofddorp is erg divers. De afwisseling tussen nieuwe en oude huizen is gaaf. Overal waar je in Hoofddorp zou lopen is het om de 500 meter wel anders. Ik woon in het oude gedeelde. Hier wonen veel ouderen, maar ik voel me er thuis. Ze hebben zelfs een buurtkrantje. Hoe schattig!
Toekomstige ontwikkelingen in Haarlemmermeer.
Als Hoofddorp zich ontwikkelt moet er wel echt een gezelligheidsplein komen. Kijk bijvoorbeeld naar het Leidseplein. Geweldig toch? Dat voelt veel gezelliger dan het Burgermeester van Stamplein, dat heeft totaal geen charme. Ook het Raadhuisplein heeft geen charme en de enige horecatent dat daar zit, heeft een terras dat altijd in de schaduw zit. En die nieuwe wijken zouden niet zo druk en vol als Hyde Park gebouwd moeten wonen. Ik zou echt meer ruimte creëren. Slimmer bouwen. Zulke hoogbouw is meer voor in Amsterdam. Hoofddorp is toch eerder kleinschaliger met mooie huizen. Eigenlijk zoals het nu is. Er is nu een goede balans. Er is veel aanbod. Er is een mooie mix tussen drukte en rust. In de toekomstige ontwikkeling moet je die balans behouden. En ga niet te snel bouwen, dan wordt het niet aantrekkelijk. Bekijk het rustig en bouw effectief.
De schoonheid van Hoofddorp leren kennen.
Ik vind Hoofddorp echt eigen. Ik zou geen horeca zoals Amsterdam doen. Kijk bijvoorbeeld naar Duycker. Het heeft echt iets eigens. Wordt als prettig ervaren. Doe je dit op meerdere locaties in Hoofddorp, krijgt Hoofddorp echt zijn eigen horeca. Want dat mist nog wel; een eigen karakter of identiteit. Mijn vrienden of collega's uit Amsterdam noemen Hoofddorp en Haarlemmermeer een ratje toe. Een bij elkaar geraapt zooitje. Maar als ze hier dan komen, dan zijn ze ineens heel positief. Dan is het ineens niet zo ver van Amsterdam en eigenlijk ook wel gezellig. Maar ze weten gewoon niet wat ze ervan kunnen verwachten. Het is niet opvallend genoeg. Het wordt door vrienden, kennissen en collega's gezien als een lelijk dorp. Ze moeten het leren kennen. Daar ben ik van overtuigd. Er moeten opvallende plekken komen zodat mensen het erover gaan hebben en benieuwd zijn naar wat er is.
(Sociale) verbondenheid.
Als ik bijvoorbeeld over de Stelling van Amsterdam wandel of door het Haarlemmermeese bos, dan vind ik dat heerlijk. Maar als ik door Hoofddorp wandel, dan zie je veel loze ruimtes.
Die ruimtes kan je beter gebruiken om gezellige parkjes te maken, zodat mensen daar naar buiten gaan. Dan komen mensen meer met elkaar in contact en het is visueel veel mooier. Maar het zorgt ook voor meer verbinding in en tussen wijken. Overal waar gebouwd wordt, lijkt geen verbinding te zijn. Als er nieuwe wijken bij komen, moeten die wel aansluiten op elkaar en op bestaande wijken.
Indra werkt als productieleider in de televisie en filmindustrie.