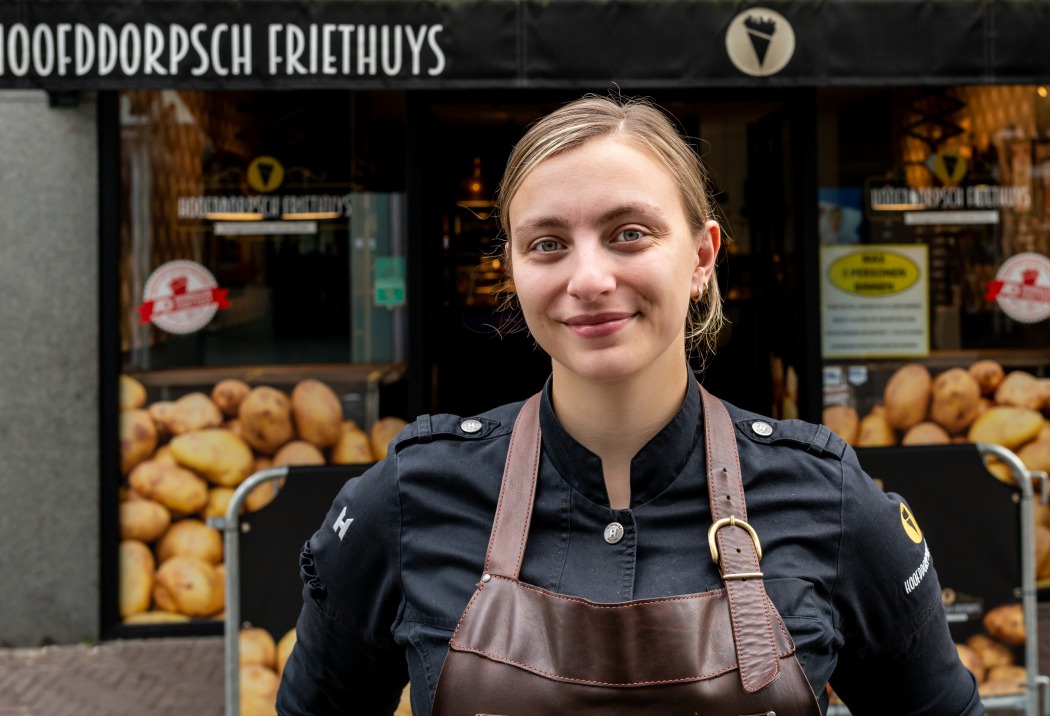 Barbara wil groen
Sectie

Gesprekken
Haarlemmermeer Groeit
Groeiportretten
Participatie
In 2018 ben ik verhuisd vanuit hoofddorp naar Zwanenburg. Na het overlijden van mijn oma kon ik hun huis overkopen. Zij waren de eerste bewoners. Het is een grote 2-onder-1-kapwoning, met veel ruimte, zowel binnen als buiten. Het is eigenlijk perfect. En natuurlijk raar om te zeggen, maar daar heb ik wel geluk mee. Ik hoef eigenlijk nooit meer weg. Maar het heeft ook veel emotionele waarde dus ik denk ook niet dat ik weg wíl.
Een stad als dorp.
Ik heb daarvoor uiteraard ook wel gekeken naar in Hoofddorp. Vaak. Al mijn vrienden en familie wonen er, het centrum is ook leuk. Hoewel Amsterdam toch wel echt mijn stad is.
Het gekke aan hoofddorp is dat het een eigen gemeenschap is. Dat maakt het een dorp, maar het heeft een stads uiterlijk. En ik voel me wel thuis in Hoofddorp, maar ik kan me niet echt vinden in het karakter van Hoofddorp. Hoofddorpers zijn in eerste instantie toch behoorlijk gesloten. En ik heb een Jordanese familie en in het oude Amsterdam is juist iedereen altijd welkom. Maar als ik echt zou moeten kiezen, dan gaat mijn voorkeur uit naar hoofddorp. Het is er erg compact.
Groen in de directe en nabije omgeving.
In mijn vrije tijd ga ik regelmatig naar Het Haarlemmermeerse bos en de Toolenburgse plas om lekker te wandelen. Gek eigenlijk. Want het Amsterdamse bos is ook dichtbij en de Tuinen van West ook, misschien wel dichterbij, maar daar kom ik nooit. Het is daar veel te druk. Ik hou toch meer van het plaatselijke en verbondenheid. Dat vind ik ook zo fijn aan Zwanenburg. Er wordt hier bijvoorbeeld veel aandacht besteed aan het openbare groen. Er zijn net weer nieuwe bomen en planen geplant. Het is mooi om te zien dat de gemeente daar aan werkt. En er is hier ook veel groen in de wijk met een kleine kinderboerderij en wandelpark. Dus voor de dagelijkse wandelingen is het ideaal. Je bent omgeven met groen. Maar als ik een (mid)dagje naar buiten wil, ga ik vaak naar wat grotere recreatieplekken.
Dat is ook wel het meest waardevolle in mijn omgeving; de afwisseling tussen klein en groot groen. Ik heb ook hele fijne herinneringen aan de vele (speel)pleintjes in Toolenburg. Dat zorgt ervoor dat je op jonge leeftijd in een beschermde omgeving toch een bepaalde mate van vrijheid hebt. Dat vind ik wel erg belangrijk.
Ruim opgezette buurten.
En misschien is het gek hoor, maar bijvoorbeeld parkeren. De straat staat hier vol met auto's, maar toch is het nooit een vol. Iedereen vindt zijn of haar plekje wel. En als je erdoorheen loopt, dan heb je niet het idee dat het vol staat met auto's. Dat komt omdat het ruim opgezet is en ook de privekavels zijn groot en vaak met een parkeerplek. Dat vind ik een fijne omgeving om in te wonen. En dan zijn er ook nog veel plaatselijke voorzieningen. Dat is ook goed voor een dorp. En de ondernemers zijn actief. Die proberen echt wat te doen en dat straalt ook uit op de inwoners. De bereikbaarheid van Zwanenburg is ook erg goed.
Zoek de balans en verspreid de voorzieningen.
Het is belangrijk dat in de toekomstige wijken van Haarlemmermeer er een goede balans is. Neem nou de horeca. Je merkt wel echt dat het Zwanenburgse horecapubliek niet naar Hoofddorp wilt en gaat. Die blijven liever in Zwanenburg. Terwijl ik vind de horeca Hoofddorp gezellig. Ik mis er wel een soort horecaplein zoals het Leidseplein of het Rembrandtplein, dat is veel gezelliger. Maar die verscheidenheid moet in de toekomstige ontwikkeling wel mogelijk gemaakt worden. Dus het is belangrijk dat voorzieningen verspreid over de kernen liggen. Maar het is logisch dat je een stedelijk centrum creëert in een van die kernen waar de grote(re) voorzieningen zitten. Niet elke kern hoeft een bioscoop bijvoorbeeld. En dat geldt voor verschillende dingen. Er moet gekeken worden naar de verschillende soorten mensen met de behoeftes. Niet alleen maar huisje, boompje, beestje. Kijk naar variatie. Er zijn meer mensen.
Belangrijke voorzieningen in de ontwikkeling van Haarlemmermeer.
Voor Haarlemmermeer is het Cultuurgebouw belangrijk. Ik heb dit vroeger echt als prettig ervaren. Je had er veel, ontmoette veel mensen. Er wordt nu veel te weinig mee gedaan. Ik zou gaan voor de hippe dingen van vroeger. Dit zou een goede toevoeging zijn voor de Haarlemmermeer. Datzelfde geldt voor een goede vmbo-school. Je hebt alleen het Hoofdvaart College. Ik denk dat dit wel al een obstakel is. Je moet hier echt naar kijken. Ik mis ook diversiteit sportclubs. Je hebt er maar een paar. Ook vind ik dat er veel meer promotie moet gebeuren in de Haarlemmermeer. Laat zien wat de Haarlemmermeer te bieden heeft!