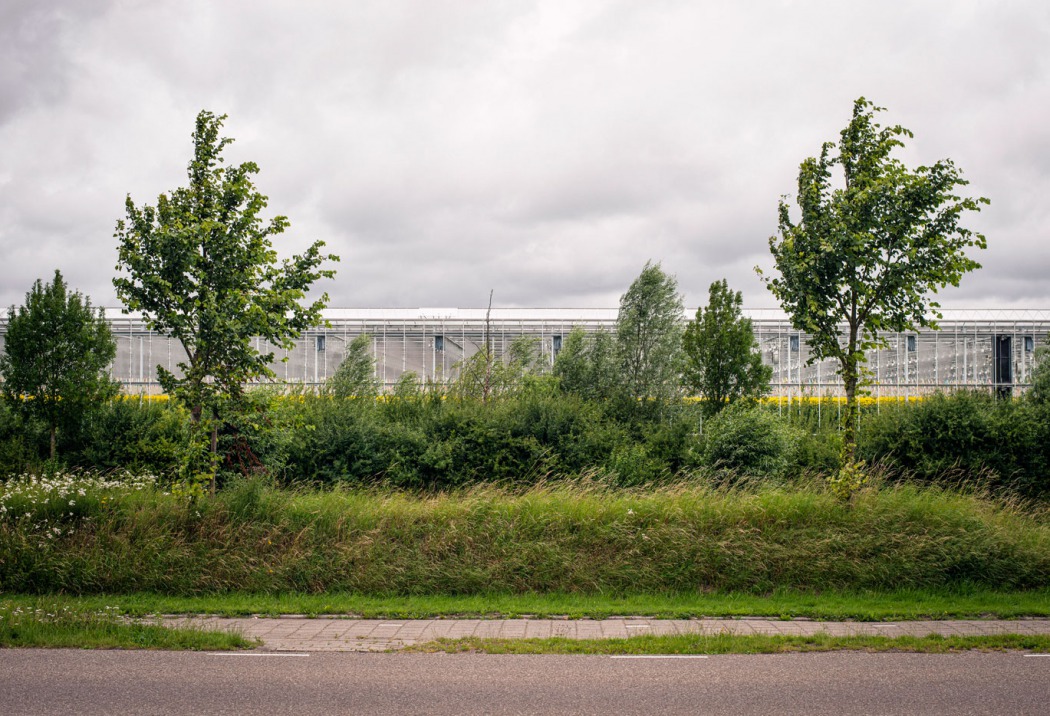 Martijn Vis
Sectie

Polderlintportretten
Gesprekken
Participatie
Martijn Vis is eigenaar van Rozen & Radijs in Burgerveen. Wat maakt wonen & werken op deze plek aan het polderlint bijzonder?
In wezen had de structuur van het poldergrid door een kind getekend kunnen worden. De Drecht, de oude polder, werd gemaakt op hoe de wegen al lagen. Dan krijg je een hele andere dynamiek. Als je het mij vraagt, wat is de dynamiek? Het is heel statisch. Het statische, het bedrijfsmatige, dat maakt het bijzonder, maar niet naar mijn idee positief bijzonder. Ik hou juist van de natuur. Als ik een stukje wil fietsen, ga ik de Haarlemmermeer uit, dan ga ik naar de Drecht of naar Leiden. Uit de rechte structuur, uit de rechte belijning. Ik teel mijn rozen biologisch dynamisch. Water moet ook mijmeren, meanderen. Vissen leven altijd aan de IJ kant. Vissen houden ook van meanderen. De energie kan dan beter vloeien. Energetisch is dit niet de beste manier waarop het werkt. Door de rotondes gaat de energie in de polder beter stromen. Ik fiets liever 20 km de kant van het meanderende land op dan 10 km die kant van het poldergrid. Als je de Ringvaart op fietst, heb je hele verschillende dynamieken.
Wat is aan dit stukje polder zo bijzonder is; dit is het oudste tuinbouwgebied van de polder. Nu is er de herverkaveling. Als je hier tien jaar geleden was, was de polderstructuur nog zichtbaar in de kavels van 2 x 3 km. Daar zaten de kwekerijen op. Het statische, de ruimtelijke kwaliteit, daar kun je componenten op benoemen. Het is heel makkelijk verpachtbaar, indeelbaar, verkoopbaar. Strepen trekken. Voor mijn kwekerij was het beter geweest als ik ronde vormen had. Verwarmingsbuizen zijn recht maar voor de dynamiek zouden er wat minder rechtlijnige elementen moeten zijn.
Je ziet al dat de nieuwe wegen die gelegd worden, naast de bestaande Rijnlanderweg, daar zitten al bochten en rotondes in. Je ziet gelukkig veranderingen. Eigenlijk zou het water ook moeten mijmeren. Hiernaast ligt glastuinbouw gebied. Grote maten, een man, in een keer verkocht. Daar zit het speelse niet meer in. Van 20 meter is het naar 40 meter rand gegaan. De groenstrook ernaast is bijzonder. Ik heb aan de gemeente gevraagd of ik de zorg mag hebben over de groenstrook. Daar wil ik graag wat koeien laten grazen. Speeltuinen zijn verschrikkelijk afgezaagd, drie keer van de glijbaan en dat is het. Op die groenstrook, plaats iets wat hoort bij dit gebied; een oude vrachtwagen of een stuk vliegtuig. Kinderen zijn dagen zoet als ze zelf kunnen fantaseren.
Aan het grid van de polderlinten kun je kwaliteit verbeteren door er kleine stukjes speeltuin aan toe te voegen. Stukjes teruggeven aan de natuur. Zoals het Amsterdamse Bos, drie eilanden, sloten erheen, dat heeft veel gekost. Zoiets is het mooist. Geef iets terug aan kinderen, niet van dat geciviliseerde maar biedt het vrije denken aan. Vrije denkers hebben we nodig, je moet het zelf ontdekken.
De bereikbaarheid kun je combineren met de polderlinten. Je kunt het heel goed integreren. Bij PARK21, een prachtige speelplek, die wordt heel goed bezocht, maar die ligt niet in een woonwijk. Hier ligt ook een afgeschreven speeltuintje, dat is vervangen door iets slaapverwekkends.
Wat betreft bereikbaarheid en zichtbaarheid; Ik ben een oud bedrijfje achter de woning. Doordat Looyen kwam, de tomatenkweker, ben ik in het nauw gedreven. Dit is wateroverloop gebied, er is moeras, ook goed om daar weer beesten in te zetten die het een beetje bijhouden. Ik heb het geopperd aan de gemeente en hoop dat ze daar goed op reageren.
Groene omzoming van de linten als tunnel of als wand als entree van het dorp, is dat functioneel?
Het was echt een polder, was het saai als alles geoogst was, je was blij als alles weer groeide. Het is duidelijk dat je de seizoenen ziet, dat is interessant. Ik weet niet of mensen een begin of eind aan dit gebied ervaren, of er een entree aan zit. Voor mijn gevoel voel je geen begin en eind. Het kan ook zijn dat ik te blind ben hiervoor omdat ik hier woon. Ik ervaar het niet zo. Het is wel een gebied…misschien ben ik wel de entree van het gebied, dat weet ik eigenlijk niet.
'De sociale component hoort er echt ook echt bij, dat is echt de toekomst. Dat grootschalige is echt geweest.'
De beleving van stromen en kwaliteit vanuit bedrijfsvoering?
Ik ben helemaal omgegaan, terug naar het biologische, meer gemengde bedrijven. Ik zie niet zoveel in de bedrijven zoals hier tegenover. Het is heel eenzijdig. Als bedrijf ben je een orgaan binnen je gemeente en je land, dus ik moet zorgen voor het evenwicht. De producent aan de overkant haalt mensen uit het buitenland, daar is onrust. Ze werken heel hard, ze moeten vertier hebben, ze gaan drinken en eten niet het meest gezonde eten. Als je eenzijdig teelt, heb je ook eenzijdige bemesting, je mineralen komen scheef te liggen. Hij gebruikt elektriciteit, waar zeven windmolens voor nodig zijn. Daardoor heb je veel minder natuur. Uiteindelijk gaat het bedrijf tegen de lamp lopen omdat de footprint zo groot is, kunstmest, werk, alles is uit balans. Het kan beter zijn als je het echt dynamisch houdt. Een stuk voor rozen, een stuk groente, dat ik straks de mest van de koeien weer kan gebruiken. Circulariteit. De keten weer herstellen.
De aarde is van oorsprong heel goed. Zandgrond is heel schraal, dan krijg je juist veel meer smaak. Dat geldt niet voor aardappels. Met kleigrond moet je zorgen dat je de kwaliteit behoudt. Waar al 50 jaar landbouw bedreven wordt en veel kunstmest gebruikt, komen heel veel plassen, de hele bodem wordt verwaarloosd en niet gevoed. Die bodem is heel arm geworden. We gaan er niet heel goed mee om. De tijd gaat leren dat er wel een eind komt aan die schrale landbouw activiteiten. Ik heb een klein bedrijf, ik ben vrij, de bank is niet de baas. Het onderneemt verschrikkelijk lekker als de bank niet in je nek hijgt. Ik heb heel veel mensen met een afstand tot de arbeidsmarkt. Die gaan thuis helemaal fout, die hebben niets te doen. Die komen hier graag werken, gewoon gratis, omdat ze thuis helemaal gek worden. Ze doen alles. De sociale component hoort er echt ook echt bij, dat is echt de toekomst. Dat grootschalige is echt geweest.
Wat betreft corona; ik denk echt dat ze er helemaal naast zitten. Met mijn rozen heb ik de ervaring dat er vaste plekken zijn die beginnen met ziektes. Toen zat ik nog op substraat en ging ik ze verplaatsen. Maar elke keer kwam op de zelfde plek de ziekte. Toen was het eigenlijk plaatselijk, bleek het. Corona is heel plaatselijk. Ik denk dat ik weet welke energie de corona veroorzaakt, weet het bijna zeker. Ik probeer verzorgingstehuizen op te bellen, of ik een plattegrond mag, dan kan ik vertellen waar de ziekte is uitgebroken. Een verpleegster vertelde ''aan mijn kant was er geen corona aan de andere kant van de straat allemaal wel''. Ik voel exact de lijn waar de corona zit. Ik ben daar nu mee bezig. Stel je voor een bos met een bosbrand; zijn ze aan het zoeken naar het peukje, dat hou je niet tegen, kan alles zijn. Als het bos nat was geweest was het peukje nooit ontvlamd. De energie is de droogte, dat peukje is de corona. Als je zo kijkt, ga je steeds meer zulke verbanden leggen. Ik heb allerlei lijnen door de lucht aangelegd, ik voel ze, een lijn lag parallel, dat is misschien waarom dat kweekbed niet groeit, maar die parallelle lijn pakte het meteen op. Mijn dochtertje, kwam al bij ons in bed liggen. Dat bed ligt precies op die lijn. Buxusmot precies op die lijn; de buxus groeit nu weer en mijn dochter slaapt door. Die coronalijn valt mee in Haarlemmermeer terwijl we hier het drukste verkeer hebben en Schiphol. Waar de straling het hoogst is, gaan de waardes ook omhoog. Er is veel vervuiling door de stallen etc., hyperconcentratie, daar is de 5G ook uitgerold met experimenteren.
Geef maar weer stukjes aan de natuur terug, aan de boeren, maak het klein korreliger, breng de kleinschaligheid terug. Het is heel mooi als je in Oostenrijk bent, boeren kunnen nooit bestaansrecht hebben, ze krijgen subsidie om de landerijen te beheren, een verdienmodel om landschap te beheren.
'Geef maar weer stukjes terug aan de natuur, breng de kleinschaligheid terug. Het is heel mooi als je in Oostenrijk bent, boeren hebben geen bestaansrecht, ze krijgen een bijdrage om landschap te beheren.'
Dat PARK21 als groen lint is wel een heel goed idee. Hoe kun je dat volhouden? Dat is wel heel dapper dat ze het park doorzetten. Van een hele goede visie getuigt Hoofddorp als winkelstad. De infrastructuur loopt eigenlijk heel goed in de polder. Twintig jaar geleden was je echt een half uur bezig om naar het centrum te komen, en nu stroomt het verkeer. Meer beweging vanuit gebogen lijnen om een keer, niet altijd in de linten te fietsen met waanzinnige wind tegen. De polder begint al dynamischer te worden. Dat fietspad bij de Geniedijk, dat is super.
Beleving & persoonlijke noot
Mijn opa is hier begonnen met buitenbloemen telen, mijn vader heeft er een rozenkwekerij van gemaakt, ik heb dit er weer van gemaakt en dat voorziet toch in een behoefte. Rozen en radijs, met een tropische tuin, een rozenkwekerij, een intieme zaal voor verhuur, plantenverkoop met een restaurant. Bewoners hebben hart voor de zaak, ook in coronatijd is er de gunfactor. En ik organiseer weer iets dat bijdraagt aan het dorp. We maken zelf het eten, dat is belangrijker dat het biologisch is. Dat was in Amsterdam nou weer hipper geweest.
De stroming, kleinschaliger, fijnkorreliger en stukken land aan kinderen geven, het mag iets minder recht. Als dat juist het karakter van de polder is, dan moet je het houden, maar dat is niet waar ik voor val.
Martijn Vis is ondernemer en eigenaar van Rozen & Radijs, een familiebedrijf te Burgerveen