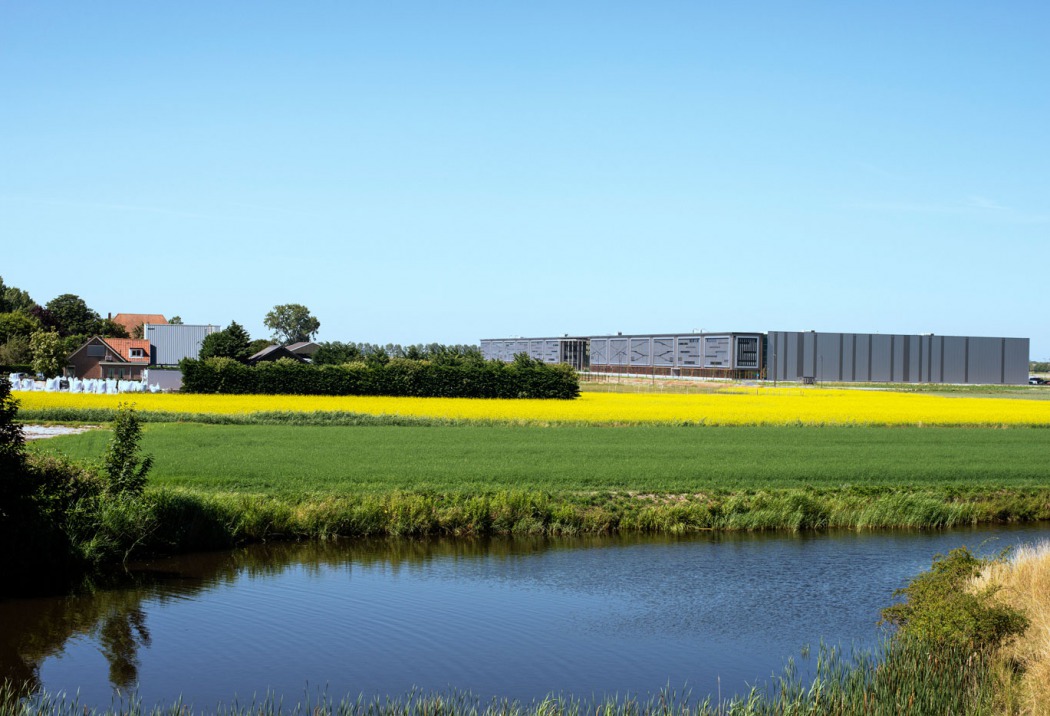 Mariska Joustra
Sectie

Polderlintportretten
Gesprekken
Participatie
Mariska Joustra werkt aan de Rijnlanderweg. Wat maakt werken op deze plek aan het polderlint bijzonder?
Ik denk dat veel mensen als ze aan een werkomgeving denken, denken aan grijze kantoorgebouwen of fabrieksachtige omgevingen. Ook ik heb in die omgevingen gewerkt. Functioneel, maar weinig inspirerend. Het mooie van C-Bèta is dat je in een heel andere omgeving zit. Er staat er een hazelnotenbos naast ons kantoor, over het aangrenzende grasveld huppelen konijnen en hazen. Er staat een bijenkast en je ziet de seizoenen veranderen. Dat maakt voor mij dat je je meer bewust bent van jouw rol in het grotere geheel, je ervaart de natuur. Wij doen ons circulaire werk, niet alleen voor de opdrachtgevers en -nemers in de gebouwde omgeving, maar ook, als ik voor mijzelf spreek, voor het behoud van onze aarde. Bij C-Bèta zie je duidelijk waar je het voor doet.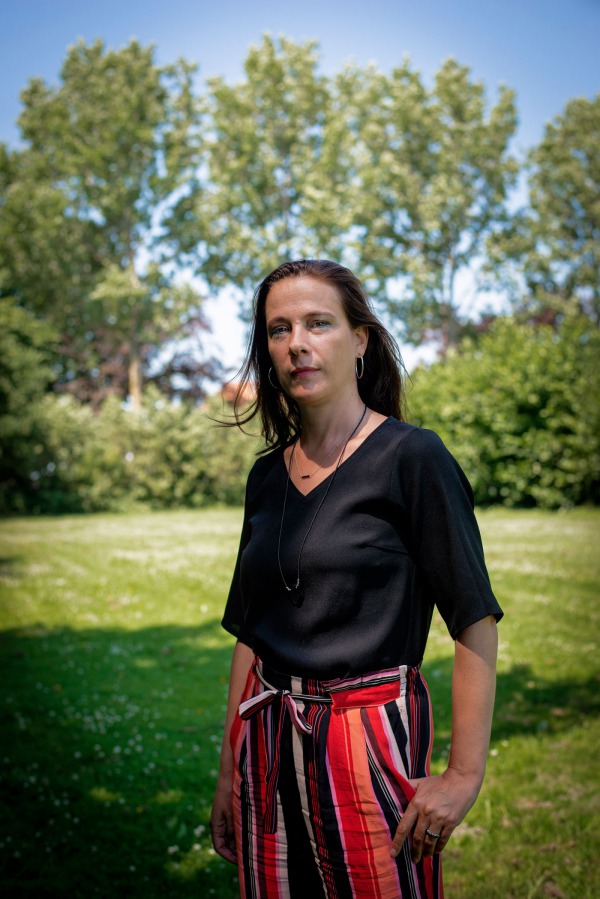 Voorheen stond onze locatie, een gerenoveerde boerderij, in het polderlandschap. Nu worden een groot aantal hectares onderdeel van de werklocatie Schiphol Trade Park. In de toekomst leeft meer dan 70% van de mensen in de stad, ook in Amsterdam en Haarlemmermeer, dat betekent dat veel voorzieningen in de periferie van de stad een plek moeten krijgen. Schiphol Trade Park legt de lat hoog, het wil de eerste circulaire werklocatie worden. Een ecosysteem dat bestaat uit verschillende bouwstenen; met werkgebouwen, duurzame energieopwekking, waterberging, goede mobiliteit en veel groen dat goed is voor mensen, planten en dieren.
Het zou goed zijn als organisaties die zich vestigen niet alleen onzichtbaar, maar ook zichtbaar maken voor bezoekers, bewoners en medewerkers. Dat er duurzame keuzes gemaakt zijn. En in deze keuzes de (circulaire) lat voor zichzelf zo hoog mogelijk leggen. Het is wetenschappelijk onderzocht dat natuur zien en ervaren goed is voor ons als mens. Het zou jammer zijn als dat vanwege efficiëntie, alleen sturen op budget en tijd of simpelweg een gebrek aan aandacht verdwijnt.
Gisteren organiseerden we samen met één van onze partners een lunchwebinar over de Omgevingswet. Alles begint met ambitie en visie; wat wil je bereiken, welke visuele uitstraling streef je na, welke eisen stel je. Het behoud van erfgoed kan zeker een aandachtspunt zijn, dat zien we bijvoorbeeld ook bij de ontwikkeling van het Pampus-eiland.
Mensen houden van esthetiek, van schoonheid, van mooie dingen. Je wordt geraakt door zaken die je moeilijk vast kan leggen. Je voelt het als er aandacht gegeven wordt aan een gebouw, publicatie of locatie. Het mooie van natuur toevoegen, is dat je van natuur kan genieten zonder er een oordeel over te hebben. Natuur is gewoon natuur en vraagt niets van ons. Dat biedt de plek van C-Bèta op de dagelijkse werkmomenten; lunchen aan de picknickbank buiten, met je collega van gedachten wisselen terwijl de zon schijnt, of een powerwalk door de polder doen. Ik was blij toen ik hoorde dat nieuwe vestigers ook steeds meer visueel laten zien dat zij circulair en groen bouwen. Het is de eeuwige zoektocht naar de balans tussen bewaren wat er al is, investeren in nieuwe ontwikkelingen en keuzes maken vanuit visie, kennis en kunde.
Hoe combineren we die visie met de polderstructuur, de linten, de ervaringsfactor?
De vraag is, waarom wil je dat poldergrid behouden? Wil je dat behouden omdat het een stuk historie is dat we niet kwijt willen? De polder is ooit ontstaan omdat we land wilden winnen en we water moesten afvoeren. Dat was toen een functionele invulling van een economisch streven naar landbouwgrond. Nu, zeggen we, dat de Randstad leefbaar moet zijn en dat geldt ook voor haar omgeving. Elke keer kan je integraal kijken naar het vraagstuk en bepalen wat de stip op de horizon is. Niet noodzakelijkerwijs opofferen, omdat dat logisch klinkt, maar voors en tegens afwegen.
Vinden wij het belangrijk dat we erfgoed of een stuk geschiedenis bewaren? En moet je dan alles bewaren, of zijn er andere oplossingen te bedenken? Kan het misschien in kleinere zones en daarbij een locatie creëren om het verhaal te vertellen. Misschien niet zo zeer het grid bewaren, maar wel de beleving van de polder, met weidse vergezichten. Dat je ziet dat er gewassen gekweekt worden. Daarmee voorzie je meteen in de discussie over voedselvoorziening. Gaat het een ten koste van het ander? Ik heb het antwoord niet. Het vraagstuk is multidisciplinair, dus ook het antwoord zou dat moeten zijn.
'Alles begint met ambitie en visie; wat wil je bereiken, welke visuele uitstraling streef je na, welke eisen stel je. Het behoud van erfgoed kan zeker een aandachtspunt zijn.'
Beleving & persoonlijke noot
Mijn vakgebied is marketing en communicatie. Ik bevind me op het snijvlak tussen de organisatie en de inzet van communicatiemiddelen en het belang van een zichtbare bijdrage van deze middelen aan de organisatiedoelstellingen. Doen we de goede dingen en doen we ze goed? Wat is het effect en de impact op onze doelgroep, welke issues en trends signaleer je en bewaak je wat moreel, bij jouw missie en visie past? Communicatie gaat voor mij om een relevant en betekenisvol contact tussen onze organisatie en onze omgeving. Speerpunten daarin zijn voor mij het betrekken van alle stake- en shareholders, circulaire ervaringen en verhalen delen en het aanjagen van verandering. Ik ben geen gebiedsexpert, bouwer of architect. Mijn bevlogenheid combineer ik met kennis van communicatiemiddelen en 'common sense'. Natuurlijk wil ik daarbij zoveel mogelijk mensen binnen en buiten de circulaire wereld enthousiasmeren na te denken over hun eigen keuzes en circulair te worden.
Mariska Joustra is board member C-Creators
'Het idee is integraal te kijken naar een opgave en bepalen wat de stip op de horizon is. Een vraagstuk is multidisciplinair, dus ook het antwoord zou dat moeten zijn.'