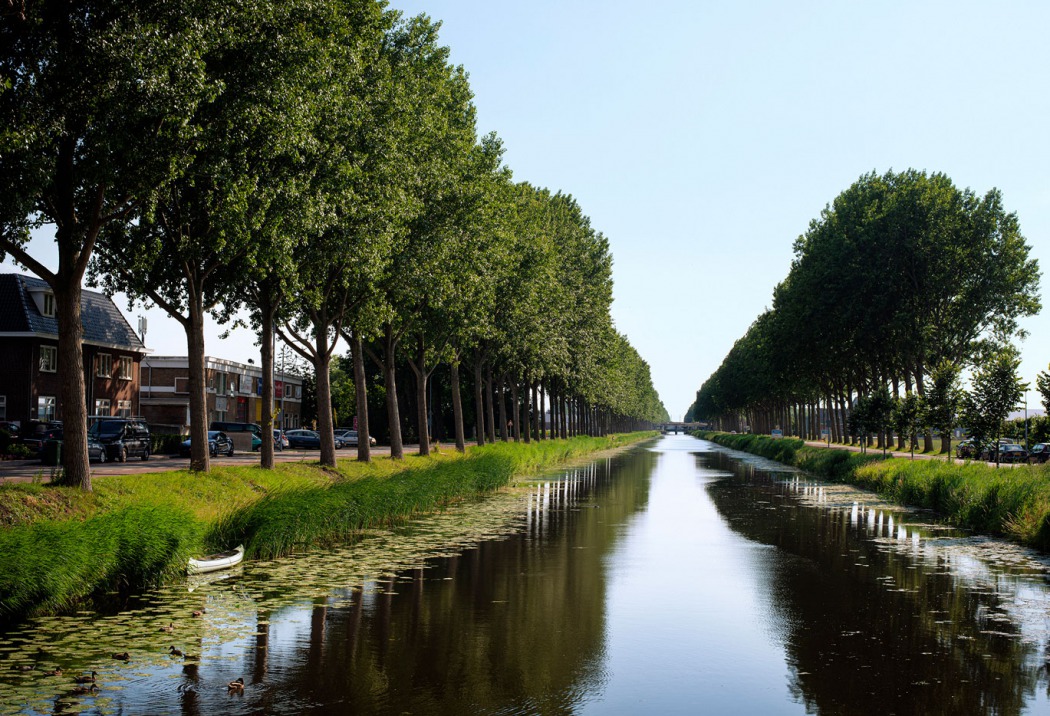 Adrie Verbeek
Sectie

Polderlintportretten
Gesprekken
Participatie
Adrie Verbeek is geboren en getogen in Haarlemmermeer. Wat maakt het leven op deze plek aan het polderlint bijzonder?
Ik ben geboren en getogen in Haarlemmermeer. Met vijf paarden uit de klei getrokken in 1943. Uit een pioniersfamilie die hier in 1855 als polderjongens zijn binnengekomen vanuit het rivierengebied Bergse Maas. Ze leefden van de riviervisserij. Het ging niet zo goed meer. De rivieren waren leeggevist en ze verdienden niets meer. Haarlemmermeer was net drooggevallen en ze zochten werkers om de greppels en sloten te graven. Het handwerk. Hier kon je een kwartje meer verdienen dan elders. Mijn voorouders zijn hierheen getrokken en in Aalsmeer terechtgekomen. Ze waren uitgeschreven in Andel, waar ga je heen, Haarlemmermeer bestond nog niet. Ze begonnen te werken in Aalsmeer dus werden ze ingeschreven in Aalsmeer. Een deel is overgevaren, over de Ringvaart heen.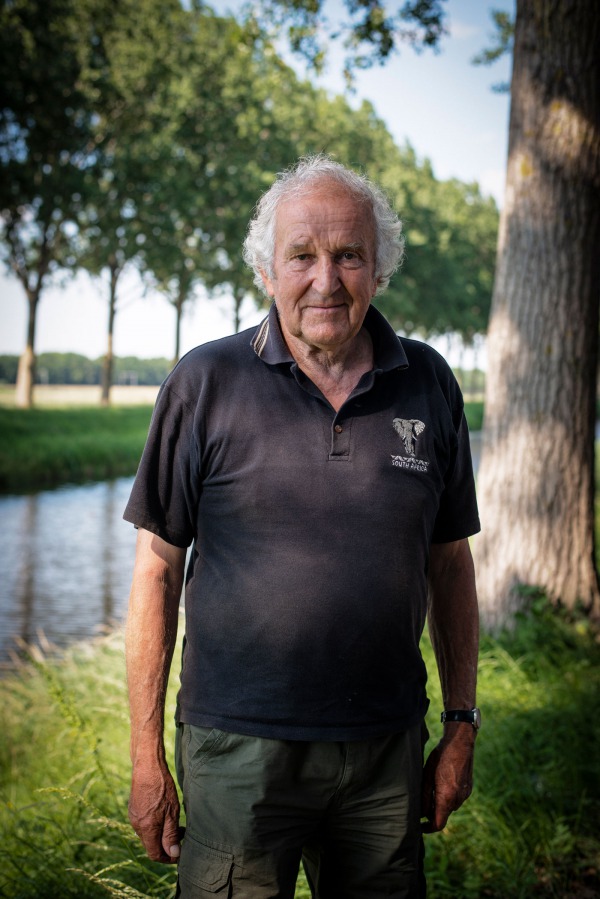 Toen kon je officieel bij de Margaretha's Hoeve je kind aangeven, daar woonde de wethouder. Dan hoefde je niet helemaal met je fiets naar Hoofddorp. Die afstanden zijnenorm. In die tijd moest je met paarden wagen of lopend. In de winter was het een poel van narigheid, een onbegaanbare toestand. Als je ging trouwen kreeg je bij veel boeren geen dag vrij. Je moest werken. Er werd getrouwd over de puthaak. Alleen als je bij de Badhoeve werkte, bij burgemeester Amersfoordt, daar kreeg je een dag vrij én doorbetaald. Dat overvaren over de Ringvaart naar Ringdijk 400 leidde naar boer Arie van't Hoofd, hij kwam uit Angerden. Hij had een stukje land verkocht en met dat geld heeft hij een perceel grond gekocht en een boerderij gebouwd. Hij was er net iets eerder dan de Verbeeken. Verbeek kon daar terecht, van het zelfde houtje, afgescheiden van de zware kerk. Dat was kat in 't bakkie. Via van 't Hoofd, deden de Verbeeken zo hun best. Zetboer en pachter geworden van een aantal bedrijven. Wij hebben hier meer dan 40 jaar geboerd aan de Hoofdvaart richting Lijnden net onder de N201 door. De ruimtelijke kwaliteit hangt af van waar je in de Haarlemmermeer staat.
'Wij gaan voor het landelijke. Met de polderlinten. De structuur moet blijven terugkomen, bewaard blijven en zichtbaar zijn.'
Je hebt de idyllische plekjes, hier bij gemaal De Leeghwater, Lijnden of bij Cruquius. Het merendeel van Haarlemmermeer bestaat uit kantoren en industrie, daar zie je iets heel anders. Rond het station is het weer een ander verhaal. Wij gaan voor het landelijke. Met de polderlinten. De structuur moet blijven terugkomen, bewaard blijven en zichtbaar zijn. Het doet ons veel leed, dat er een aantal boerderijen in verval staan. En er gebeurt niets. Het kost steeds meer om het straks op te knappen en het gaat niet goed.
De betekenis van het water, vanwege het overvaren: hier ligt die prachtige Hoofdvaart, en we doen er niets mee. Best geschikt voor transport of recreatie. Vroeger hadden we kano's bij de boerderij liggen, gingen we vissen, deden we aan vlotten bouwen. Van een oud laken maakten we een zijl. Hendrikushoeve met een heel mooie hal, is al gesloopt, wat kun je ermee? Bijvoorbeeld Fort bij Hoofddorp, daar zit nu een restaurant in, je moet maar overleven daar. Het is daar uit de loop. Dat heb je met de Hoofdvaartkerk gezien. Het gaat even goed en dan is het al uit de route. Dus als je midden in de polder zit moet je zoveel goodwill kweken om de klanten er te halen.
Die boerderijen aan de overkant, laat je staan en ze blijven altijd zichtbaar. Haal voor mijn part de percelen eruit. Vroeger is 98 procent leefde van de agrarische wereld nu nog 2 procent.
Beleving & persoonlijke noot
Het is moeilijk om oud spul goed te maken. Ze hebben hier altijd heel goedkoop gebouwd. De laatste stolp richting Lijnden zit met strekstangen aan elkaar. Je zou ze eigenlijk moeten herbouwen maar dat ga je niet doen onder die herrie. Die is op termijn verloren. Je moet voorzichtig zijn niet te idealiseren. Het gebouwde is langzamerhand aan het verdwijnen. Voor de toekomst moet je keuzes maken.
'Je moet voorzichtig zijn niet te idealiseren. Het gebouwde is langzamerhand aan het verdwijnen. Voor de toekomst moet je keuzes maken'