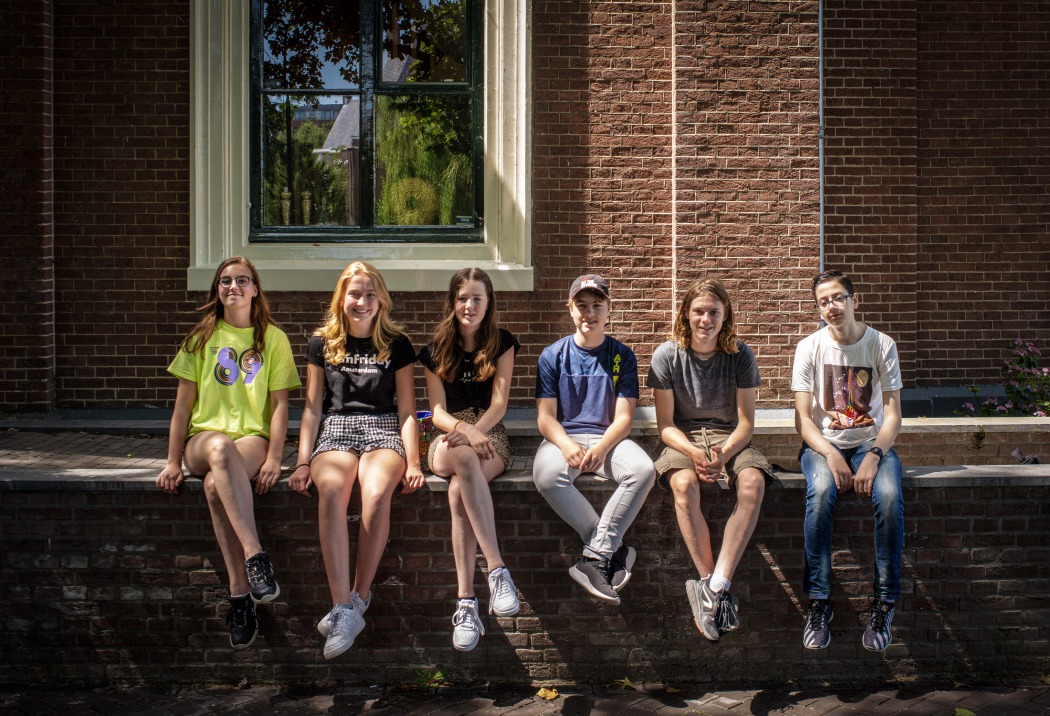 Zes jongeren van het Kaj Munk College in Hoofddorp
Sectie

Leren in de Metropo(o)lder
Polderlintportretten
Gesprekken
"Het water van de Hoofdvaart, we benutten het niet. Je kunt suppend van Nieuw Vennep naar Hoofddorp, naar school. Gebruik het water voor sport, voor vervoer naar school."
Wat maakt deze plek zo bijzonder? Zes observaties en belevingen.
24 juni, Het Oude Raadhuis, Hoofdweg 675, Westzijde Hoofddorp
Hosam: Ik woon sinds vier jaar in Nederland, ik kom uit Syrië. Op deze plek is aan alles aandacht besteed, het groen, de mooie gebouwen en ook het verkeer is goed geregeld.
Nyle: Wat bijzonder is, is dat de Hoofdweg aan weerszijden van het water loopt. Het is mooi met voldoende bomen, voldoende groen. Water is wel belangrijk, water is wel heel mooi, dat opsplitst in twee wegen.
Sil: Ik woon zelf in Nieuw Vennep aan de Hoofdweg. Naar school fiets ik langs weilanden, veel frisse lucht en uitzicht. Eenmaal in Hoofddorp is het iets heel anders met alle bebouwing. Nieuw Vennep is gewoon een klein dorpje, het is niet heel veel meer. Als je dan Hoofddorp binnen komt, dan vraag je je af is dit wel een dorp, zit ik wel tussen de weilanden? Er zijn gebouwen, een winkelcentrum, openbaar vervoer, veel verkeer, het is stedelijk.
Rosalie: Ik woon ook in Nieuw Vennep. Het is een fijne plek om te zijn, altijd gezellig, niet zo druk, en het voelt wel thuis. Het voelt zowel in Nieuw Vennep als in Hoofddorp thuis. Hoofddorp iets minder. Het is wel een leuke plek om te zijn maar wat drukker. Het groen in Nieuw Vennep aan de Hoofdweg is minder groen dan hier, het centrum van Hoofddorp. Vooral het centrum van Nieuw Vennep bij de Hoofdvaart is behoorlijk stenig. Op die locatie mag meer groen komen; het Händelplein heeft nauwelijks groen, dat mag opgefrist worden. Dat geldt ook voor de Symfonie, de rotonde. Het kan beter en mooier.
Bibi: Ik vind het zo mooi dat er gewoon natuur is langs de Hoofdweg. Een boerderijtje, een molen. Je hebt ook nog een boerderijtje waar allemaal boomgaarden zijn. Het is ook leuk omdat je hier met je vrienden naartoe kan, naar een terrasje of een ijsje kan halen. Dat je het allebei hier hebt. De terrassen liggen in het centrum, vlak achter de Hoofdweg en de Hoofdvaart. Eigenlijk zou hier best wel wat meer activiteit mogen zijn; meer terras, meer publiek. Het zou helemaal fijn zijn als je ergens naar kunt kijken. Als er boten langs zouden komen.
Iris: Er gebeurt niet zo veel met het water. De Hoofdvaart wordt niet gebruikt. Stel je voor dat er gebruik van wordt gemaakt met opblaasbootjes, kleine kinderen die spelen. Gewoon aanlegsteigers en aanlegplaatsen, stijgers of vlonders langs de Hoofdvaart aanleggen. Dan kun je er ook even gaan zitten, als picknickplekken.
De kwaliteiten – een Groepsgesprek
Er is hier heel veel om naar te kijken, bijvoorbeeld de fontein, de bloemen, de natuur, de winkels, een iets ouder gebouw. Er is gewoon heel veel afwisseling. Heel is druk maar wel gezellig druk, met verkeer, fietsers, auto's. Er zijn de oude gebouwen die vroeger belangrijk waren en nu sfeer geven aan de plek. Een mix van oud en nieuw is goed.
Elk dorp begint met een huis, het wordt vanzelf een ouder huis, dus is wel logisch dat het er is. Bewaren is goed om die mix te krijgen.
Het feit dat dit vlakbij Schiphol ligt is heel raar. Alle vrienden die niet hier vandaan komen die zijn altijd verbaasd over de vliegtuigen. Geluidsoverlast maakt me echt helemaal niet uit. Je bent er gewoon aan gewend. Het is fijn dat Schiphol hier ligt, je kunt naar de bushalte lopen en de bus naar Schiphol nemen. Of fietsen en je bent er binnen een kwartiertje.
Iets verder van de Hoofdvaart, in het centrum bij de bioscoop is ook een soort skate parkje. Daar is een soort natuur, het is groen, dat is wel mooi gedaan. Waar de fietsen staan, is het weer minder, omdat het daar weer te strak is. Bij de KFC en de Jamin is een soort boog waar planten in zitten. Daar is een soort kweektuin in bakken waar je ook courgettes kon uithalen. Het lijkt me fijn als dat weer terugkomt. Toen hebben we echt heel veel courgettes geplukt, in het centrum. Eigenlijk zit je hier in de polder. Verbouwen van voedsel, dat gaat heel erg over identiteit en verbinding met de plek.
Wat is belangrijk voor de toekomst en de polderlinten?
Over fietsen, recreëren en spelen: Maak vooral bij plekken met bomen kleine speeltuintjes voor kinderen. Het lint is anders alleen maar om naar te kijken en niet om te gebruiken. Het gebruik van het groen ontbreekt.
Ik zou wel in het water willen zwemmen, is de kwaliteit van het water goed genoeg? Het water kan een recreatiefunctie krijgen. Fietsen langs de polderlinten is op zich wel te doen. Maar er zijn geen dwarsverbindingen behalve de wegen.
Als je door de weilanden een fietspad zou kunnen aanleggen is dat een verbetering want je kunt nergens mooi fietsen, je moet altijd maar rechtuit en meebewegen met het langsrijdende verkeer. Een pad alleen voor fietsers. Maak nieuwe polderlinten!
De fietspaden, bestaande en nieuwe, hebben bomen nodig. Variatie aan bomen. En tussendoor bankjes, plekken om even te zijn, te rusten, te hangen. Met een prullenbak. Skaten is ook leuk, met grindpaden. Het is jammer dat je langs de linten niet kunt skaten. Er zijn fietsers en als je vaart wil maken, liggen de stoeptegels los en er zijn steentjes. Dat is heel gevaarlijk.
Er zijn op en rond de linten veel kruispunten die onhandig zijn. Onduidelijk aangegeven. Bijvoorbeeld bij basisschool Klimop, begrijp ik nog altijd niet hoe die werkt en ik fiets daar al heel lang. Vooral langs die polderlinten zijn de kruispunten vaak heel vreemd.
Achter de linten, meer naar de bebouwde kom, liggen veel voetbalveldjes maar geen ruimte om te softballen bijvoorbeeld. Je moet voor meer actie naar het sportveld. Meer kleinschaliger sportvelden of velden waar je geen last hebt van de auto's etc. Groter dan een speelveld, met een hoog hek, met softbal sla je er zo overheen.
Over bebouwing en erfgoed
Er zijn veel oude boerderijen waar weinig mee wordt gedaan. Ze staan soms leeg en verdwijnen. Je kunt ze ook opknappen, een andere functie geven voor bewoners zoals een speciale groenteboerderij. Er zijn boerderijen die je kunt gebruiken voor cursussen. Je zou ook cursussen kunnen geven over het gebruik van boerenland. Zodat alle kennis en de geschiedenis niet weggaat; want hoe en waarom werden machines gebruikt, wat voor landbouw, hoe ging dat? Hoe ging het vroeger en hoe gaat het nu?
Het is goed om meer boerderijtjes toe te voegen om het beeld te versterken. Restaurantje erin, met vers eten, echt Hollands eten, stamppot, aardappels, groente, vlees. Met een grasveld eromheen, voor een picknickplaats waar je lekker kunt zitten. Dat kan bij de IJweg, de Hoofdweg etc. Je kunt die oude boerderijen veel meer benutten. Dat we daar geen nieuwe woonhuizen neerzetten en dan de oude boerderijen bewaren waar je ook cursussen kunt geven, kunt sporten en recreeren.
Boerderijen zijn belangrijk om te bewaren, ze moeten wel beter gebruikt worden. Ik zie weinig boerderijen die goed gebruikt worden, zoals voor het verbouwen van voedsel etc. Waarvoor boerderijen bedoeld zijn.